The Blog
Posted on 19/09/2017 by ozzy in Amps, The Blog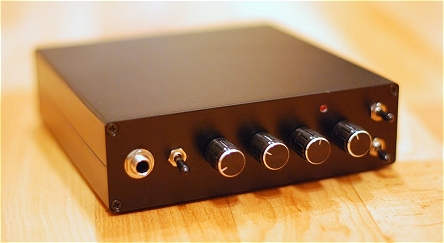 The Alembic F-2B preamp is often referred as the secret ingredient of David Gilmour's tone. But it was originally meant for improving Roger's bass rig. It's a straight up copy of preamp section of a Fender Dual Showman, which is a copy of the basic circuit found in a RCA Receiving Tube Manual from 1948!
These preamps are still available, even today, but they don't come cheap. If you are after the original unit, be prepared to pay about $1,500.
The good news is that the same preamp can be purchased for much less than that. Just go to FrogPedals.com and look for the Frog Tube Preamp. You have two buying options there: a) complete Frog Tube Preamp Fx1 unit, or b) DIY printed circuit board (PCB) to make your own preamp.
As you can see on the pictures, my build is PCB based and has some additional improvements - such as hi-cut switch, two switchable clipping diode pairs (Germanium and Silicon), and optional 6/12V tube heater switch. It's powered by standard 9V DC power supply - 9 volts DC is pumped up to a 185+ volts DC which is supplied to the standard tube amp circuitry for Class A operation.
It provides a clean sound with a nice vintage feel, and handles all my pedals perfectly.

Posted in Amps, The Blog  |  Please leave your comment
Posted on 15/03/2017 by ozzy in The Blog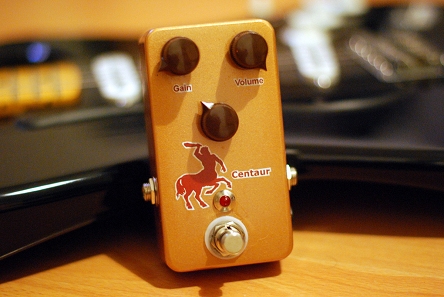 A short while ago, I had written not very favorable review about the Soul Food (see my review here). The Soul Food was an Electro-Harmonix' take on the famous Klon Centaur overdrive, and to me it was a huge dissapointment. I really couldn't understand, why everyone was so excited about it.
I eventually ended up selling the Soul Food and obtaining the real thing. But my Klon is not the Klon per se. It's a clone of the Klon. And the best part of the story is that I have built it myself!
I am not trying to show off here. What I am trying to say is that building your own effect pedal of the boutique quality is fairly easy. If you happen to have basic soldering skill, you are good to go.
The whole design of Klon Centaur has already been reverse-ingeneered a while ago, so its exact schematic is no secret anymore. The secret are the specs of clipping diodes used to achieve the required tone character. People have tried all sorts of diodes in the circuit, and found that the Russian D9E diode was an exact tonal match. Luckily, these diodes are still being sold on eBay. The other parts of the build are pretty common and could be sourced from almost anywhere.
I recommend to purchase the PCB (Printed Circuit Board) from AionElectronics.com. The Refractor project found there is a straight-up replica of the Klon Centaur. Check the project's documentation for more info. It helps to bust a few myths and clear up some misconceptions too. Highly recommended!
How to get started:
If you are a beginner, you may find these tips useful.
1. Get a basic tools
Absolutelly necessary: soldering iron with holder & sponge, soldering iron tip cleaner, solder, wire cutters, wire
Will make your life much easier: good reading lamp, third hand, wire stripper, tweezers, half-round-nose pliers, desolder pump or solder remover
Only needed if you want to go serious: digital multimeter (DMM)
2. PCB
I'd recommend getting your PCB from AionElectronics.com. All projects of this guy are very well documented and therefore most suitable for the beginners.
3. Common parts and components
Nothing fancy here. Just check the documentation and purchase all needed parts. If you are having trouble of sourcing them localy, try TaydaElectronics.com. This e-shop is fucused on the electronics hobbyists and pedal builders, and their rates won't dissapoint you. (Also be sure to check their Facebook page regullary for the 15% discount code!)
4. The "magic" diodes
I got my pair of D9Es at eBay (a Bulgarian stock). You shouldn't be worried doing the same.
5. Soldering
Watch a soldering lessons on Youtube. Soldering is really not that difficult and with some practice it will become your second nature.
6. Goodl luck!
Useful links
Madbeanpedals.com/Forum/ - place where to get some help
FreeStompboxes.org - forum
Madbeanpedals.com - PCBs
AionElectronics.com - PCBs
TaydaElectronics.com - great parts source for electronics hobbyists
Basic Soldering video-lessons - Youtube lessons
Posted in The Blog  |  Please leave your comment
Posted on 04/03/2017 by ozzy in The Blog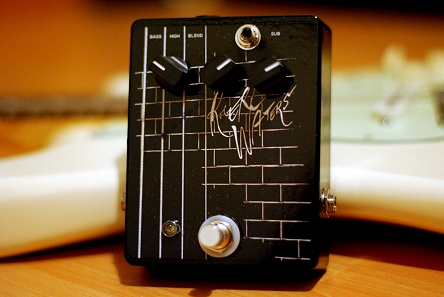 Just thought that I could share my take on the classic Electro-Harmonix effect pedal that I have built from the layout found on the Guitar FX Layouts web site.
The vintage EHX Octave Multiplexer pedal generates deep bass tones, one octave below the notes you play on your normal guitar. It comes handy when you need to play just a few bass lines here and there.
Obviously, the pedal enclosure design was inspired by Roger Waters Signature Fender Precision Bass.
Posted in The Blog  |  Please leave your comment
Posted on 05/07/2015 by ozzy in The Blog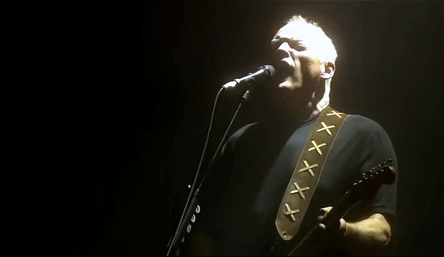 This cross-stitched chocolate suede guitar strap in question has perhaps become as famous as its owner's black stratocaster. This strap was owned by Jimi Hendrix, and in 2006, it had been given to David by his wife Polly Samson. From that point on, we, Gilmour fans, had wanted to own such strap, too.
The first guitar strap manufacturer who seized the opportunity here was Jeri designs. Their replica looks beautiful, but the price is insane. So I did a small research to see, what other manufacturers have to offer. Soon, I had found that most of their copies were surprisingly lame. Some of the manufacturers simply din't bother to copy it properly. Either colour, or shape, or both were wrong. Wouldn't it be cross-stitched, you perhaps wouldn't recognize the strap at all.
Finaly, certain Greek manufacturer Paul Minotaur got the design adequately right. And the price seems to be within the reason, too.
The only drawback is that their strap should be a lot more flexible on its length adjustment. And another issue is that it doesn't look very secure to use. It takes just one(!) cap rivet to keep everything together, and I have absolutely no doubt about what will happen, if I jump on stage too much. If you need to shorten your strap a lot more to ensure the best playing position, you will have to plant another rivet in it. I also recommend replacing the leather end of the strap (the end where strap button goes) for something made of a material you can trust. Applying a buckle-like-something that will prevent your strap to go loose whenever the rivet fails, won't hurt either. I wouldn't dare gigging with my priceless Strat like that before I do the above.
Here folows the break down of a Gilmour Hendrix straps available on the market at the time of writing this: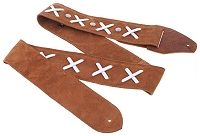 « 1) Paul Minotaur / The Legend
Price: $66 (59 EUR)

2) Jeri designs / Replica Price: $250

« 3) Jeri designs / Modified
Price: $99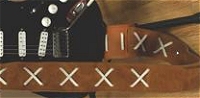 « 4) Tundra Leather Price: N/A

» 5) Dave Brown / Another design inspired by Jimi's strap by Minotaur
Price: 38 USD (34 EUR)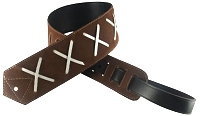 « 6) Basso straps / DG-02
Price: $16 (R$ 45,90)

7) Martin Pryce Leather / Gilmour replica strap
Price: $120 (79 GBP)
Posted in The Blog  |  Please leave your comment
Posted on 22/03/2015 by ozzy in The Blog
I read many positive reviews about Squier Cabronita Telecaster that I have decided to buy one. However, playing it, I hadn't been overly excited with its tone. To my ears, it sounded like a couple of wires attached to a piece of wood strummed with a crumpled newspaper. Really bad!
Later, I replaced Cabronita's maple neck with a rosewood one from my Squier Telecaster Custom to see what will happen (I needed a maple neck for my Squier Andy Summers Tribute Telecaster project anyway). I wasn't surprised that the guitar still sounded like shit, but at the same time the new neck gave it a beautifully long sustain. Interesting, what could be achieved by replacement of the guitar's neck. Well, then it was time to improve Cabronita's overall tone.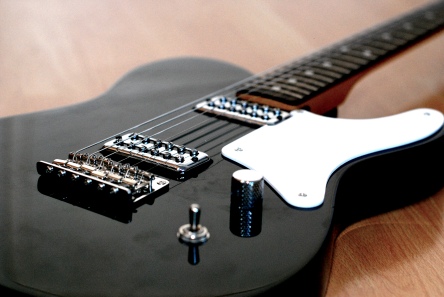 You might have heart about "play-in" simulators. These devices are based on the theory that the more your instrument is played, the faster it reaches its full sound potential. And believe me or not, it works! I tried it myself so based on my own experience. After 100 odd hours on ToneRite simulator, the guitar started showing some musical quality that weren't there before. Of course, the ToneRite won't make a poor instrument great, it's only designed to bring out the best in it. I would definitely recommend it being used for budget instruments, but maybe for others too. Pity that the price of this useful yet somewhat single-purpose device is so "boutique."
Posted in The Blog  |  Please leave your comment
Posted on 25/01/2015 by ozzy in The Blog
The Soul Food was released by Electro-Harmonix as a part of their series of cool overdrive and distortion stomp boxes.
It's no secret that Soul Food is a clone of the Klon Centaur, the pedal that has become a legend. For its tone, as well as for its price.
It was really clever for Mike Matthews of EHX to take on the Klon, and release its clone. And as I understood from most of the reviews, a very good one. I never played Klon myself so I don't know how these two compare. What I do know is that Soul Food I bought gets me the Klon sound for less. Only quite surprised when I plugged it in.
The original Klon, as been no longer produced, sells for ridiculous sums of money on eBay. So to buy a Soul Food for a tiny fraction of cost of the Klon made a perfect sense to me. Even if it was like buying a pig in a poke.
That being said, the real question should be, why are people obsessed with the Klon so much. Is it mostly due to the hype? Maybe.
To be honest, I am not overly excited with it. The pedal sounds boxy, like being played inside of a cupboard, and anything over 10 o'clock on the gain mushes your tone to a dull, mid-rangey something. It cuts nicely through a band mix though, but doesn't sound much of its own. I know that these things are down on to ones preferences. People mostly love it, to say the least, and that's fine. Unfortunately, the Soul Food is not my cup o'tea. So be prepared that there is a slight chance that you might not like it neither.
(I have tested the pedal with a few different Strats and Teles pluged in the VOX AC15 C1.)
Pros:
It's a clone of the Klon, isn't it
Cuts easily through a band mix
Cons:
Boxy, dull, and heavy on midrange... that's about it
Doesn't sound much of its own
Posted in The Blog  |  Please leave your comment
Posted on 04/01/2015 by ozzy in The Blog
Looking at David Gilmour's rig from The Wall tour 80-81, I noticed an interesting piece of equipment that I was unsuccessfully trying to figure out for some time. The identical device was on display at the Interstellar Exhibition in Paris, France. Firstly, I though it was a tape deck. But I couldn't be too sure, as all images of it were not very clear. Then I accidentaly had come across a Pater Cornish status on Facebook...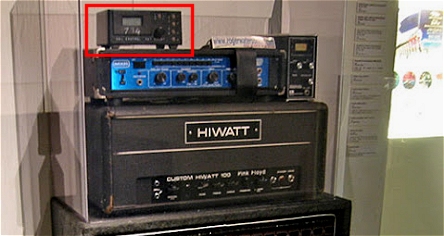 This mysterious device in question was in fact a Cornish Delay Time Controller. David used it - as you may imagine - to set time on his MXR Digital Delay unit with more comfort.
Source: Wikipedia, Peter Cornish (photo)
Posted in The Blog  |  Please leave your comment
Posted on 09/10/2014 by ozzy in The Blog
I wasn't very happy with my Boss CS-3 compressor for it was a bit noisy and added a typical squishy effect to my tone. Hence I started looking for a pedal with more even and smooth compression. I found a Mooer Yellow Comp which imitates the Diamond CPR-1. I haven't had an opportunity to play the Diamond, so I can't say how it compares. The Mooer offers mild optical compression with no squishy effect and no added coloration. It could better be described as a transparent tone enhancement. Just nice for improving my cleans.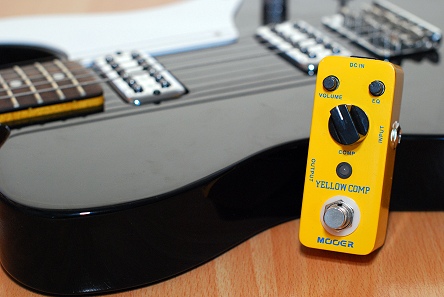 All compressors will more or less raise the noise level depending on how they are set. My Boss CS-3 for example got noisy whenever Sustain knob was turned past 12 o'clock. The Mooer Yellow Comp has hardly any noticeable noise at all, even with its Comp control all the way up. Of course, all pedals on your pedal board will affect the overall noise that the compressor would amplify, but in my rig, the noise was perfectly bearable.
If you are after a nice sounding budget compressor with smooth attack and decay, then don't look any further. That being said, I wouldn't recommend it for country, where you usually want noticeable compression as an effect.
Posted in The Blog  |  Please leave your comment
Posted on 13/09/2014 by ozzy in The Blog
I bought this pedal because I wanted to nail this nasal, vocal tone of Mark Knopfler's guitar from Money for Nothing. Funny, even Mark can't remember how he got that sound on the record. Only thing he remembers is that he played a Les Paul through a Laney amp with some mysterious microphone setup. To re-create that tone, he uses a rack-mounted Cry Baby wah with fixed settings today.
Even though my Vox V845 wah worked fine for this purpose, it filtered certain frequencies that I wanted to be part of the tone. The last but not least, the foot-pedal position was susceptible to accidental bumps, so I had decided to look for something more practical. Soon, I found out that there weren't many budget alternatives available on market. In fact there was just one. Dunlop KFK Q-zone, a limited reissue edition of already discontinued stomp box of the same name.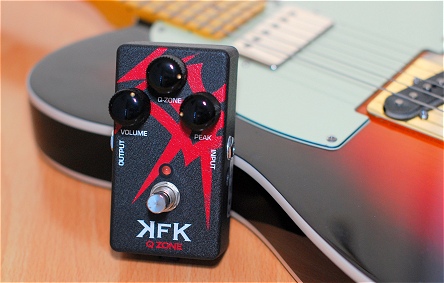 The Dunlop KFK Q-zone is so called fixed wah, so it's like if you were to set a wah foot pedal in one position and leave it there rather than consistently manipulating it. It features the same controls as a Dunlop 95Q Cry Baby: The Volume (up to +18 dB), Q-Zone (frequency breadth), and Peak (frequency center, serving the same function as the wah foot pedal, to sculpt and set the sweet spot).
The Q-zone might not be the most frequently used pedal of my rig, but it does the job very well. It's more pedal board friendly than a standard wah.
The Guitar Player Vault magazine (April, 2012) published the interview with Knopfler's guitar tech Ron Eve, where he's describing how to get Money for Nothing tone:
1) Get Soldano 100 Watt head and Cry baby wah-wah
2) Adjust the Soldano's normal channel as follows:
Put the Clean/Crunch switch in Crunch position
Turn the Bright switch off
Set the Gain to 6, Bass to 9, Mid to 8, Treble to 3, Master to 7.5, and Presence to 6
3) Set your wah-wah to the most "vocal" position, and leave it there
4) Add a touch of Reverb
Posted in The Blog  |  Please leave your comment
Posted on 17/08/2014 by ozzy in Summers-ish, The Blog
I have been The Police fan since 80s, always wanting to own a Telecaster, but the original Andy Summers Tribute Telecaster costs more than my car, ...sadly. Well, it was only natural that I started a project called the PMASTTSO -- Poor Man's Andy Summers Tribute Telecaster Sort Of.
I based my project on a Squier Classic Vibe Telecaster Custom, an inexpensive, good sound, good look guitar crafted in China. If I wanted to stay within my budget I didn't have many other choices here, especially as Fender doesn't produce double-bound sunburst Teles in Mexico. This guitar was actually quite a good deal worth every penny spent, so all is good, and no problem so far. Perhaps its weakest point is the bridge and saddles. The pickups are OK, allegedly Toneriders.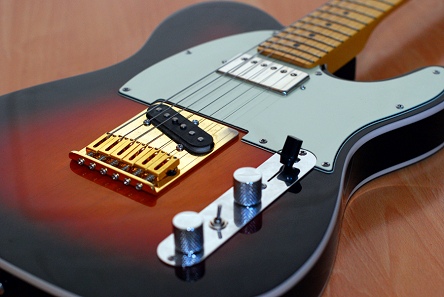 My mods:
Bridge > Gotoh HW40G, 3 mm brass plate with Strat style brass saddles.
Tuners > Fender Vintage (MIJ) - more reliable than stock MICs
Bridge pickup > Fender 62 Tele Custom
Neck pickup > Hand-wound copy of Gibson PAF - beautiful pickup with a smooth tone
Maple neck > The original rosewood neck was replaced with a maple neck from my Squier Cabronita Telecaster.
Phase switch
Mint green pickguard
Pros:
not exactly the Andy Summers tone, but nice tone of its own
nice binging
Cons:
cheap-looking glossy finish
still a bit expensive for the budget guitar from China
there was a wrongly drilled hole on the stock saddle where the wrench goes, so I couldn't get the action on the E string adjusted properly
Posted in Summers-ish, The Blog  |  Please leave your comment
Posted on 19/07/2014 by ozzy in The Blog
I haven't owned many Electro-Harmonix effects as they never were my favourite. Recently, EHX started producing very interesting pedals, and I had decided to take a good look at them. The Soul Food, a copy of the legendary Klon Centaur overdrive was in my scope for some time. Just as well as the Satisfaction, which is a copy of a Gibson Maestro Fuzz-Tone pedal. Today, we are going to look at something even more special. The EHX B9 Organ Machine, which emulates sound of a classic Hammond B3/C3 organ from the 60s.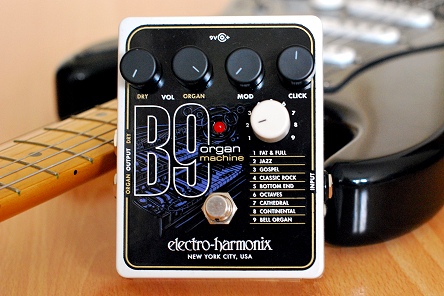 Presets
The EHX B9 offers nine different presets: Continental preset sounds very much like a Vox Continental, and can certainly be used to simulate Rick Wright's Farfisa. The Bell Organ patch is a cross between an organ and electric piano (Fender Rhodes, Wurlitzer). The Cathedral patch makes your guitar sound like a giant cathedral organ. The Fat & Full patch adds an extra octave below and above to make your guitar sound big; Jazz preset reminds of Jimmy Smith tones; Gospel has the upper octave drawbars added; Classic Rock captures the sound of songs like "Whiter Shade of Pale," by adding a touch of distortion. The Bottom End preset has the lower draw bar sound that reminds a bass line on Sugarloaf's "Green Eyed Lady." And the Octaves preset adds one octave above, which sounds like "Your Time is Going to Come" by Led Zeppelin.
Controls
With the Dry and Organ Volume controls you can mix both guitar and organ signals together by adjusting their volume levels. These signals could also be outputted to two different amplifiers. The Mod knob controls the speed of modulation. The type of modulation depends on the preset selected - available modulations are chorus (presented in most presets), tremolo (Cathedral, Bell), and vibrato (Continental). The Click knob controls a percussive level, which was designed to simulate the harmonic percussion effect on a classic B3 and C3 organs.
Playing
To make your guitar sound like a Hammond, you will have to play it differently than you are used to. You cannot play on guitar what cannot be played on a real organ. So be prepared that most of your favorite licks will have no use here. On Youtube, there is quite a few demos where guys do exactly the opposite. They play very "guitar-oriented" way, and it shows...
Tracking
Some people I have spoken to were concerned about possible tracking issues (tone latency), but this question is quite irrelevant. The B9 doesn't use midi, samples, sound triggering, etc. It's a completelly different process. What you are hearing is actually sound of your guitar being processed with a B9 circuit. Hence changing your guitar, pickup or adjusting tone will also affect the organ sound.
Sugar on the top
The software and emulation algorithm were created by David Cockerell, who designed the EMS synths of Pink Floyd fame.
Pros
Nine quality presets (Hammond, Vox Continental, electric piano...)
Easy to operate
Two separate outputs for dry and organ signal
9V Boss-style power supply
Nails Rick Wright tones
Cons
Buffered bypass
A bit pricey
Posted in The Blog  |  Please leave your comment
Posted on 14/06/2014 by ozzy in Summers-ish, The Blog
In the early years of The Police, Andy Summers' rig wasn't that insanely crowded with so many different pedals and effects as is today. It mainly consisted of a MXR Dyna Comp, Maestro Echoplex and/or MXR Analog Delay. The most important thing that helped him to acquire his distinctive tone was an EHX Electric Mistress flanger, which was set up for a mild, chorus-like flange. To nail his tone with a budget stompboxes, the first thing you need to get is a Mooer Eleclady (see review here). Next, you need a MXR Dyna Comp compressor, and last but not least, you need an inexpensive analogue delay pedal such as EHX Memory Toy. In case you want to go on, Andy also used the Musitronics Mu-Tron III (Too Much Information, Flexible Strategies), MXR Phase 90 (Hole in my Life), a fuzz/overdrive, a Roland guitar synth... etc... though from now on, it's starting to be a little bit complex...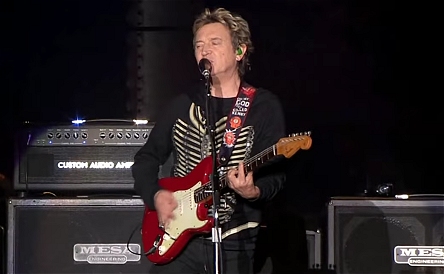 Police Station
The most of the stomp boxes and effect processors of Andy Summers' 2007 tour rig are loaded in an off-stage rack. The effects could be operated on-stage by Andy, through the switching system placed on the pedalboard A, or off-stage by his guitar tech, who's equipped with the identical switching system as Andy.
Pedalboard A:
Moog Moogerfooger MF-104Z Analog Delay -- Boss RC-20XL Loop Station -- Boss TU-3 Chromatic Tuner -- Boss FV-500H volume pedals to control the Lexicon PCM-70 and Eventide Eclipse.
Pedalboard B:
Bob Bredshaw (CAE) switching system -- Boss FV-500H volume pedal -- Dunlop Cry Baby wah.
Off-stage rack:
Rack-mounted equipment...
Furman PL-Plus Series II Power Conditioner -- Eventide Eclipse Harmonizer (effects processor) -- Lexicon PCM-70 (effects processor) -- TC Electronic D-Two (delay) -- TC Electronics 1210 (spatial expander + stereo chorus/flanger) -- Carvin DCM-150 (solid state stereo power amp - clean)
Stomp boxes...
Klon Centaur (overdrive) -- Red Witch Empress Chorus -- Red Witch Moon Phaser -- Custom Audio Electronics V-Comp (tube compressor) -- Zoom G2.1Nu (multi-effect) -- Lovepedal Eternity Overdrive -- Maxon OD-9 Overdrive -- Keeley Compressor -- GD2 Cream-Tone (overdrive) -- Z.Vex Fuzz Factory -- Fulltone Ultimate Octave (distortion/fuzz/octaver).
Amp & Cabs
Suhr / Bredshaw Custom Audio Amplifiers OD100
Mesa 2x12 Rectifier series cabinets
Guitars
Fender Custom Shop replica of his '61 Fiesta Red Strat (main)
Fender Andy Summers Tribute Telecaster (a Custom Shop replica of his famous '63 Sunburst Tele)
Posted in Summers-ish, The Blog  |  Please leave your comment
Posted on 19/05/2014 by ozzy in The Blog
Ever wondered what the most bizzare guitar has David Gilmour got in his collection? Well, this "afri-can" guitar could easily be the winner of this competition. A South African company called Township Guitars is crafting their instruments out of old oil cans. They are inspired by the traditional can instruments that have long been played by the poorest in Africa.
As for the famous names using their products, Dani Ngwenya of Township Guitars explains: "I've got people like Peter Gabriel buying the guitar, with his guitar player David Rhodes." And "Just recently somebody bought one for David Gilmour," he adds. "Chris Rea is one who's using them a lot; Roger Taylor bought two guitars a few years ago; Paul Carrack too."
Each guitar consist of a five-liter oil can body, a maple neck with a rosewood fingerboard, a single or double coil pick-up as well as volume and tone controls, a truss rod and a fully adjustable bridge.
On the picture below, Gilmour plays two single coil version through his small Fender Super Champ combo. (Introduced in 1982, the Fender Super Champ combo was co-designed by Rivera Amplifiers to help Fender with a modern sound. It featured 18 Watts of RMS, 10" speaker, clean and overdrive channel, and spring reverb.)
Source: CNN, Township Guitars, Polly Samson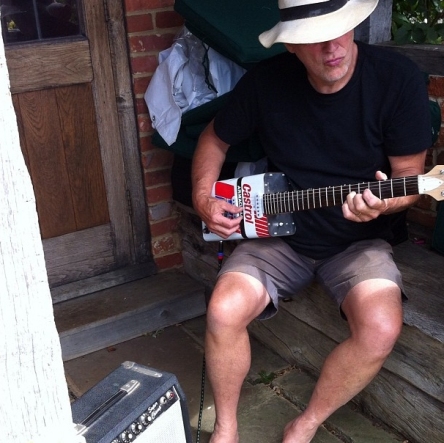 Posted in The Blog  |  Please leave your comment
Posted on 24/01/2014 by ozzy in The Blog
In the 1983, David Gilmour bought few new guitars for his upcoming About Face tour. That included a Cream Strat which has become his main guitar on the tour, and a candy-apple Red Strat, that later replaced the Cream one. Both were a '57 vintage reissue models. Also purchased at that time was a fiesta red '62 vintage reissue Stratocaster with a white pickguard and rosewood neck. After being used as a back-up guitar on the tour, it was fitted with a Roland guitar synthesiser pickup and its additional electronics (hence the enlarged pickguard).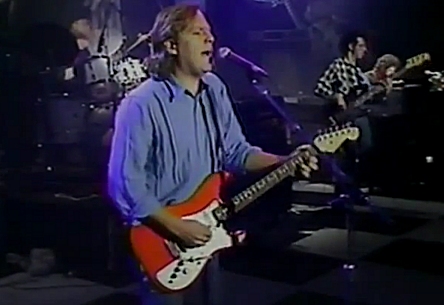 Gilmour used it briefly in conjunction with his normal guitar effects setup. The sound from the additional pickup went to a multi-way connector, then to a Roland GR700 guitar synthesiser, a MXR digital delay, a chorus, and finally to two Fender Concert amps.
This rig was used in 1984 during recording sessions with Paul McCartney, and also at the Guitar Greats concert for All Lovers Are Deranged (0:53:00).
Source: Phil Taylor - The Black Strat
Posted in The Blog  |  Please leave your comment
Posted on 23/11/2013 by ozzy in The Blog
It's not very well-know fact that in the late 80s David Gilmour used a Charvel San Dimas guitar for a short while. He played several shows with it, for example the Pete Townsend's Rockpalast concert, the Colombian Volcano Relief Concert at Royal Albert Hall (both 1986), or some shows on the first leg of the 1987 Momentary Lapse of Reason US tour.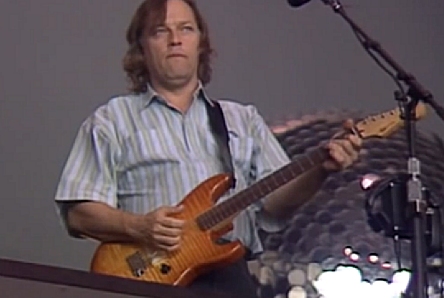 Gilmour got his Charvel San Dimas in 1984 in Germany during the About Face tour. The original humbucking pickup was replaced with an EMG, and a custom dual-concentric volume pot with SPC (Strat Presence Control) boost was installed to replace the original volume pot for a fatter and louder tone. The guitar is of honey-flame colour, has maple body and neck with rosewood fingerboard, locking-style tuners, and had Kahler brass tremolo, later replaced with Fender.
David Gilmour also owns a visualy matching bass.
Posted in The Blog  |  Please leave your comment
Posted on 02/06/2013 by ozzy in The Blog
The Chinese manufacturer Mooer Audio produces an impressive range of clones of well known guitar pedals. The Eleclady, for instance, is a nice budget copy of the EHX Electric Mistress flanger, the Ultra Drive is in fact a Boss DS-1 distortion with the Keeley mod, while the Mooer Pure Boost is a clone of an Xotic RC Booster.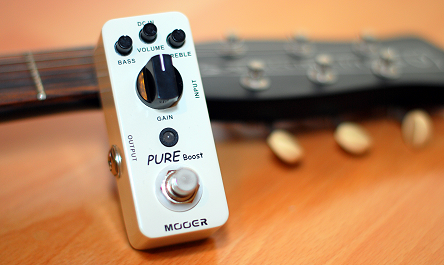 The Mooer Pure Boost has a small metal enclosure with a three control knobs - Gain, Volume, Treble, and Bass. It produces 20 db of a clean boost and to my ear it's perfectly transparent. It needs some EQ adjustments to keep your original signal unaltered though (the volume needs to be set at 2 o'clock and the gain on 0). Even with the gain on 0, you still have enough volume to amplify your solos. Turning the gain up starts producing some grit that gives your amp "this extra push over the cliff". The treble and bass controls work as a +/- 15 db EQ to help your guitar cut through the mix.
A nice little pedal realy! Highly recommended.
Pros:
transparent
versatile
small, pedalboard-friendly size
silent
true-bypass
price
Posted in The Blog  |  Please leave your comment
Posted on 30/04/2013 by ozzy in The Blog
The Eleclady pedal is a copy of the legendary Electric Mistress flanger, and it's produced by Chinese manufacturer Mooer Audio. With the Eleclady you can pretty much nail a Pink Floyd's tone and vibe of the late 70s as well as the Andy Summers signature sound of The Police's classics (typically Bring on Good Night, De Do Do Do, De Da Da Da, Roxane...).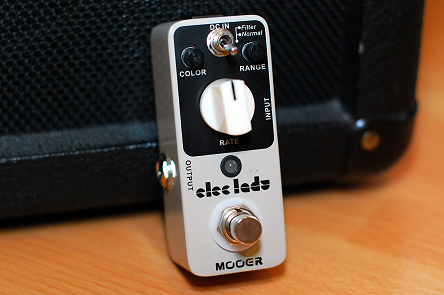 The Mooer Eleclady has a tiny little enclosure with a Normal/Filter mode switch and a three control knobs - Rate, Color, and Range. Depending on what song you want to play, the rate usualy needs to be set exactly at, or a little before, 3 o'clock. This is the sweet spot where your tone starts to be nicely "detuned" and where the Eleclady sounds best. If you turn the rate to after 3, it could be just too much. With the mode switched to Normal, set the colour to about 10, and the range to about 11. And voila... instant Andy Summers! Or Gilmour, of course...
Well, you are never to beat the original Electric Mistress with your Eleclady, but if you are looking for a decent and affordable clone, and at the same time you are not excited about the EHX's budget models like a Neo Mistress and such, the Mooer Eleclady should be the first option to consider.
Pros:
great clone, great tone
compact size
true bypass
price
Cons:
sounds best clean (isn't that impressive with distortion)
Posted in The Blog  |  Please leave your comment
Posted on 10/02/2013 by ozzy in The Blog
The Danelectro Chicken Salad is a piece of plastic marketed as a vibrato effect. Having said that, it's basically an Uni-Vibe clone and it definitely gives you a taste of the Uni-Vibe sound for a fraction of the cost. So if you can't afford to get an Uni-Vibe, this pedal would be a nice little alternative. The Danelectro Chicken Salad sounds great for its price, it has a nice phasey and swirly tone, and I think you really should try this pedal before spending your money on a different Uni-Vibe clone. I mean, if you are interested in Uni-Vibe and don't have much experience, this is a good point to start from.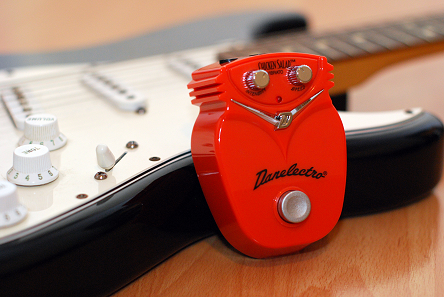 Introduced in the late 60s, the original Uni-Vibe pedal was intended to emulate the Doppler effect of a Leslie (rotating) speaker. Though often associated with chorus, this pedal is in fact a very specific phase shifter. David Gilmour used it on the recording of Dark Side of the Moon album - mainly on Breathe and Time, Jimi Hendrix used it too, notably on Machine Gun and Hey Baby.
Like the rest of the Danelectro's pedals from their "food series", the Danelectro Chicken Salad has a cheap plastic enclosure, cheap plastic knobs (for intensity and speed), cheap plastic switch, cheap plastic jacks (in, out, 9V), cheap plastic... you name it, and also included is a removable plastic protective cover for keeping the knobs from getting damaged. If this pedal was housed better, I would gladly pay more than I did. Another issue is - as it uses the same photo-cell technology as the original - that it kills a 9V battery in a few minutes, so you will have to use an adaptor.
Now I think about it, everything on this pedal sucks - EXCEPT how it sounds! And that's what counts...
Pros:
decent sounding and affordable Uni-Vibe clone
Cons:
might not get onto your pedal board because of the cheap look
battery is wearing off too fast
discontinued
Posted in The Blog  |  Please leave your comment
Posted on 06/01/2013 by ozzy in The Blog
As I needed to amplify my guitar during solos, I decided to buy a clean boost pedal and plug it into my Moen GEC9 pedal switcher. This booster should have natural, transparent character and should neither alter my guitar tone nor create distortion on its own. I first got to consider a Carl Martin Hydraboost, but I wasn't sure about its 15 dB, so I (eventually) decided to take a chance and try a Modtone Clean Boost (20 dB).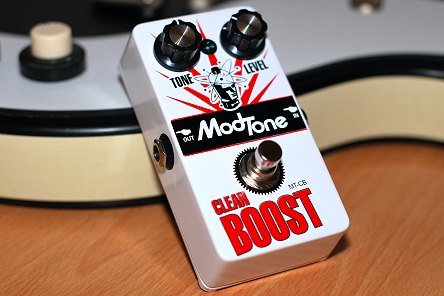 Modtone is a vendor of an OEM guitar effects manufactured in China - maybe you know some of their products under a different brand names like Artec, Hofner, Belcat, etc... (feel free to add more in comments below). Despite Modtone's strategy to pretend that they sell an american-custom-moded-boutique-blahblah stuff at budget price, their pedals are more expensive than their identical chinese counterparts (like Belcat for instance).
Anyway, the Modtone Clean Boost is a pedal that's capable of boosting your solos up to 20 dB. It has two control knobs. Tone knob allows bass or treble filtering, while Level knob acts as a dB gain (turn it before 12 and it acts as a dB cut too). Company's web site says that their Clean Boost has 20 dB of gain, but for some strange reason, there are 25 dB stated in the pedal specs elsewhere on the internet. The web site also says that the pedal is true bypass, which I doubt.
At about 8 o'clock, the gain (level control) starts adding some grit to your tone and it gets slightly dirty, so don't expect your amplified sound to be a 100 % transparent. For a real clean and transparent boost you might want to look somewhere else (like Mooer Pure Boost).
Pros:
Cons:
could be cheaper
loud click
have to unscrew 4 screws to remove/replace battery (included)
Posted in The Blog  |  Please leave your comment
Posted on 28/11/2012 by ozzy in The Blog
Recently, I realized that I have had enough of the tap dancing, so I decided to buy myself a decent effects routing system. Since my Vox AC15 combo had two separate inputs (dirty channel and clean), I needed a system that could work not just as a normal pedal switcher, and possibly a "latching" switcher, but also would allow the ABY switching for me to choose between the two separate signal routes to my Vox.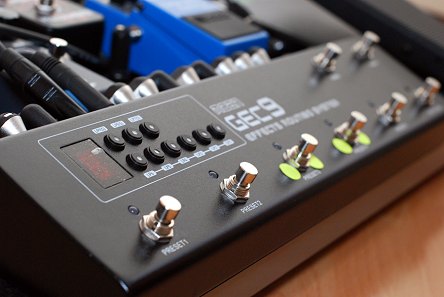 The Moen GEC9 system has 9 loops in 4 signal paths - i.e. 6 loops in path 1, and 3 loops in path 2-4 that could be used separately for several switching combinations of your amps or channels (or it can control up to 3 amp's footswitch-operable functions, or 3 additional effect pedals). These separate loops could be somewhat tricky to understand, but belive me, it's realy easy (see Moen GEC9 demo video). You can program and store 50 presets in total – 5 effect presets in each of the 10 banks. The programing of presets is pretty straightforward, just press a coresponding loop button of your choice and your preset is automaticaly stored. Moen GEC9 also has a mute switch which activates the clean output to a tuner. It also includes a buffered and non buffered input, and a buffered output. The switching from one patch to another does not cut the sound off, and it's relatively quiet (almost no "pop"). The last but not least, I did not find any colouring of the tone.
The user manual says that it needs to be powered with a DC9V/500mA power supply, but I am using a T-Rex Fuel Tank Jr. that claims to have only 120mA per output. It works fine so far.
Pros:
very flexible
3 separate loops
no tone-colouring
quiet
small footprint
great value for money
Cons:
no midi
you can't change the pedal sequence
cables can be a challenge (as with any looper)
Posted in The Blog  |  Please leave your comment
Posted on 15/08/2012 by ozzy in The Blog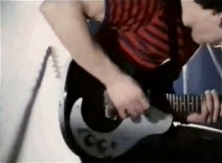 If you ever wanted to purchase a "signature" instrument without spending a fortune on it, then maybe you want to consider a '59 double-cutaway by Danelectro. Syd Barrett played this guitar during his earlier performances, before switching to Fender Esquire/Telecaster (see the Pink Floyd at the UFO Club in 1966), and also Jimmy Page (Kashmir), Eric Clapton, Mark Knopfler, Andy Summers, and young Jimi Hendrix used this model to name a few.
The 3021 - as the original model was named - was introduced by Danelectro in 1959. Since then, there have been multiple re-issues of this line of guitars.
First thing you need to know about the Danelectro 59-DC re-issue is that this guitar is surprisingly cheap - which is not necessarily a bad sign, because Danelectro's original was also built from inexpensive materials to make it more affordable. The 59-DC is a budget re-issue of a budget guitar, so there are no scaled-down specs due to production costs. The guitar itself has a light, toy-like body made of a plywood frame covered in a masonite (which is a type of hardboard). The C-shaped neck is made of poplar, the pickups are two serial-wired "lipstick" style Alnico single coils (lipstick due to the chrome cylindrical cover over them). The bridge and the top nut are made of aluminium, the bridge is with a rosewood saddle. All these factors somehow contribute to the Danelectro's unique tonal character, and as hard as it might be to believe, the guitar sounds remarkably good. Particularly when you consider what it costs. Aside from the heavy metal, it fits reasonably well in almost any genre.
Pros:
Pink Floyd-related
great vintage look and feel
distinctive sound
comfortable neck to play on
lightweight
surprisingly stable tuning (definitely better than on my "so-called-hi-tech" Steinberger Synapse SS-2F)
sounds great with a bottleneck (see Mark Knopfler playing Donegan's gone and Right now, or Jimmy Page on In My Time Of Dying)
Cons:
there is a slight chance that you may not like it
lack of intonation adjustment
inconvenient access to the guitar's upper register notes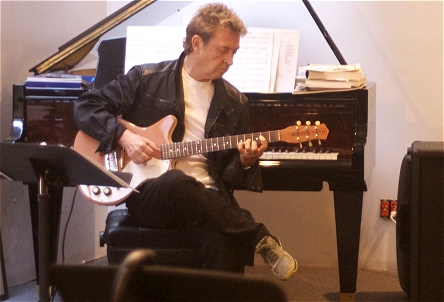 Posted in The Blog  |  Please leave your comment
Posted on 18/05/2012 by ozzy in The Blog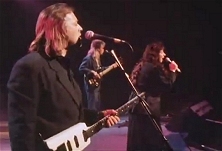 Or should I call this article High Hopes? As I remember, Steinberger guitar was one of the iconic "must-have" things of the 1980s. David Gilmour recorded the guitar parts and solo in Sorrow from A Momentary Lapse of Reason album on it, and he also played it live with Kate Bush at the Secret Policeman's Ball in 1987. Being a bit nostalgic, I purchased one of Steinberger's latest models manufactured by Gibson in Korea. Frankly speaking, it was not the best thing I've ever done, so here is my opinion that may help anyone who is thinking of buying Steinberger Synapse SS-2F guitar:
Pros:
Great look, great feel.
Convenient size and shape, easy to travel with.
Easy to re-string.
Cons:
Tone. I have a mixed feelings about it. Yes, I know, good sound is very subjective issue and it's all down to personal preferences, but in my opinion, Synapse does not have a very impressive tone (considering the price). It's muddy and synthetic with not much likable character.
Thick neck. Some may appreciate it, but, again, it depends on what you prefer.
Strap hook. Sometimes, it can get in the way when playing the higher notes. And its sharp edges could rip and tear the leather-end of your strap.
Weight. Synapse is not much lighter than the regular guitar with the solid body.
2-ball strings. Cost more than the regular 1-ball strings.
1-ball strings. Unfortunately, they slip from the head screws sometimes.
Tuning. I'd expect a more stable tuning.
You can find more about Steinberger Synapse SS-2F on the company's website.
Posted in The Blog  |  Please leave your comment
Posted on 02/02/2012 by ozzy in The Blog
This post may be off topic, regarding the focus of this website, however I just want to share my experience with one of those cheap chinese pedal clones available everywhere. Recently I purchased a Vintage Overdrive pedal by Joyo (mine was labeled Razzor) which should be based on the Ibanez Tube Screamer TS808. On the forums you can find mostly positive reviews about it so I wanted to try the pedal myself. From what I've learnt from playing it about a day or so, I must say, this pedal rocks. It realy can - from at least 80 % - sound exactly like TS808. And I do not take this 80 % as a negative. Most of the time I managed to create the tone that had a very little difference between TS808 and Vintage Overdrive, or no difference at all. This pedal cost me mere 30 EUR (40 USD), while my TS808 was the 200 EUR (265 USD) at Thomann.de. So was Tube Screamer worth the money? Unfortunately, not for me. And from my point of view, the pricing of most of the boutique padal clones on the market looks even more ridiculous to me now. Don't get me wrong, I still consider the TS808 to be a better pedal with a slightly wider range of sounds than Joyo. But question is if you really, really, really need them and are willing to pay more.
The Joyo pedals are solid and very well built (even the surface mount soldering is reasonably good). I also purchased the Joyo Ultimate Drive (Razzor Hellrider) which claims to be the Fulltone's OCD clone. As I do not own the OCD I cannot do the A/B test so if you have a personal experience with this pedal, or with any other interesting chinese pedal clones, like Moen, Beta Aivin, KLD, etc., please feel free to share your thoughts in the discussion below.