Posted on 19/09/2017 by ozzy in Amps, The Blog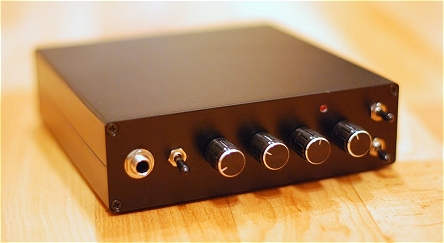 The Alembic F-2B preamp is often referred as the secret ingredient of David Gilmour's tone. But it was originally meant for improving Roger's bass rig. It's a straight up copy of preamp section of a Fender Dual Showman, which is a copy of the basic circuit found in a RCA Receiving Tube Manual from 1948!
These preamps are still available, even today, but they don't come cheap. If you are after the original unit, be prepared to pay about $1,500.
The good news is that the same preamp can be purchased for much less than that. Just go to FrogPedals.com and look for the Frog Tube Preamp. You have two buying options there: a) complete Frog Tube Preamp Fx1 unit, or b) DIY printed circuit board (PCB) to make your own preamp.
As you can see on the pictures, my build is PCB based and has some additional improvements - such as hi-cut switch, two switchable clipping diode pairs (Germanium and Silicon), and optional 6/12V tube heater switch. It's powered by standard 9V DC power supply - 9 volts DC is pumped up to a 185+ volts DC which is supplied to the standard tube amp circuitry for Class A operation.
It provides a clean sound with a nice vintage feel, and handles all my pedals perfectly.