Chris Rea-ish
Posted on 05/07/2014 by ozzy in Chris Rea-ish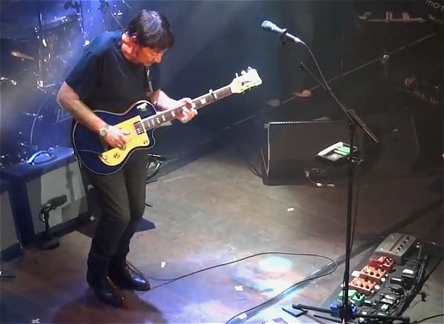 Based on the article in Guitar Buyer (April 2008), and on this Sound-on-sound article about recording Esperesso Logic album, and also on a video footage of Chris Rea live performances, it's clear that his pedal board consists mainly of the effects by Boss. Let's see what they are: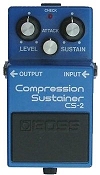 Boss CS-2 Compressor Sustainer
The Boss CS-2 is an earlier version of the current Boss CS-3 compressor. The main difference between those two pedals is the VCA chip (Voltage Controled Amplifier), which in case of the CS-2 is manufactured by Roland. The CS-3 has the VCA chip made by THAT or DBX. Another difference is the Tone knob that the CS-2 doesn't have. Otherwise, they are very similar. However, their predecessor, the CS-1, had a completely different circuit.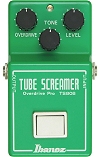 Ibanez TS-808 Tube Screamer
This is the legendary guitar overdrive pedal, which gives a characteristic mid-boosted tone. Tube Screamer was produced with many variants, and probably everybody had played this pedal at least once. If you don't want to spend your money on the real thing, there is so many budget copies on the market, such as Joyo Vintage Overdrive, etc.
Boss CE-1 Chorus Ensemble
The first Boss foot pedal effect the CE-1 was released in June 1976. It was a standalone unit of the stereo chorus/vibrato circuit found in the Roland JC-120 guitar amplifier. The current version of the CE-1 is the CE-5 Chorus Ensemble.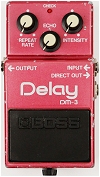 Boss DM-3 analogue delay
The DM-3 was the last analogue delay pedal produced by Boss. It provides delay times ranging from 20 to 300 ms. It has three control knobs for Repeat rate, Intensity, and Echo, and it also can be used to create a stereo effect. This pedal is no longer in production, but you can buy the Mooer Ana Echo, which is a copy of the Boss DM-2.

T-Rex Replica digital delay
Except his usual rig of a Boss vintage pedals, Chris Rea employed two T-Rex Replica delays during his live performances in 2012. The Replica provides up to 2000 ms of digital delay at a 200 kHz sampling rate. It also has a tap-tempo feature, a subdivision switch, and it can be made to emulate the sound of analogue delay by engaging a high-cut filter.
David Gilmour used the Replica on his 2006 tour for Echoes.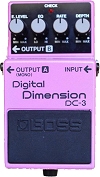 Boss Digital Dimension DC-3 chorus
I am not sure if Chris Rea ever used this pedal live or only in studio, but he certainly endorsed it on this very 80s full page advert on the picture below.
The DC-3 is a completely digital pedal, and the chorus it produces is a bit different from other chorus units. Chorus pedals in general add vibrato to the tone when you turn them up, but this one doesn't do that as much. It creates the kind of "dimension" effect. The DC-3 pedal is no longer in production.

Posted in Chris Rea-ish  |  Please leave your comment
Posted on 23/02/2014 by ozzy in Chris Rea-ish
On Driving Home for Christmas video from about 1987, Chris Rea can be seen playing a somewhat rare version of Stratocaster dubbed the STRAT and manufactured by Fender in the early '80s.
The STRAT was introduced by Fender in 1980 lasting in production until 1983. Chris Rea's guitar featured Alder (or Ash?) body, maple neck, small pre-CBS headstock with the word "STRAT" written on it, and a headstock face matching the body colour. The STRAT also incorporated a hotter lead pickup (branded the X-1) with much stronger output than the standard Stratocaster pickup, plus new wiring circuitry delivering 4 "new" tones that were not available on the Stratocaster before. These new tones were selected with the standard five-way pickup selector and with a twin-mode rotary switch that had replaced the original bottom tone control. These new tones were: 1) humbacking (neck and middle pickups in series), 2) humbucking (middle and bridge pickups in series), 3) neck and bridge pickups in parallel, and 4) neck and bridge pickups in parellel, with the middle pickup in series. The STRAT also featured a gold-plated brass hardware including a redesigned massive six-pivot bridge/vibrato unit, gold-plated tuners and volume/tone knobs.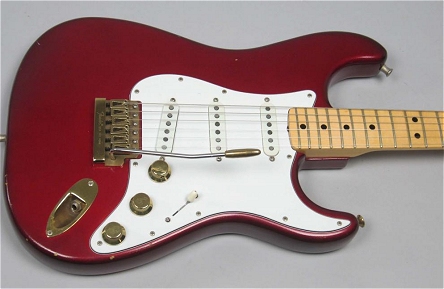 Posted in Chris Rea-ish  |  Please leave your comment
Posted on 20/12/2013 by ozzy in Chris Rea-ish
Italia Guitars is a manufacturer of retro-styled electric guitars. The company was founded in 1998 with a line of guitars designed in England and manufactured in South Korea. Most of their guitars are based on other guitars manufactured in the 1950s and 1960s. For example, the basic shape of the Maranello is based on a Swedish Hagström of the late 1950s.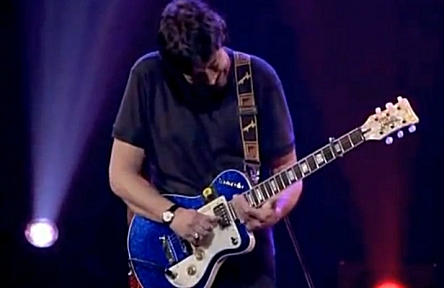 In the interview for Guitar Buyer Magazine (Mar, 2004), Chris Rea explains that during making Stone Road album in 2002, he decided to do something that he hadn't done in 30 years, he started going to Denmark Street guitar shop on a Saturday: "It was like being in a movie. I was saying to myself 'what have I been doing!?' For 20 years, most of us forgot what we were supposed to be doing. The goose that laid the golden egg-doing these huge European tours and doing a week at Wembley! And then I found this blue sparkly guitar and that was it for me. I thought it was an old guitar, I didn't know it was new." The Blue sparkly guitar was a relatively inexpensive Italia Maranello Classic model that Chris Rea had stumbled across. "And you start to think that maybe there is a God. In terms of me playing and listening, it sounded almost identical to Pinky. But no buzz - not a sausage! To think that it's supposed to be a cheap guitar! So I immediately went and got another three around Denmark Street. I had one for E straight, E tuning with capo and so on. Then when we did our first Stony Road gig, it was a Montreaux festival on blues night, and the guy from Italia guitars had gone to the concert, and there on comes Chris Rea with four of his guitars. Anyway, he managed to talk his way through security and got to the dressing room, and he was in bits! I've played the best guitar of my life on that guitar".
The Italia Maranello Classic guitar has Agathis body, maple neck with rosewood fretboard (22 fret), and two Alnico V "vintage voiced" Wilkinson WVC humbuckers, mounted in the unusual, floating pickguard.
Source: Wikipedia, Guitar Buyer Magazine
Posted in Chris Rea-ish  |  Please leave your comment
Posted on 27/10/2013 by ozzy in Chris Rea-ish
In 1979, Fender came up with the "student" guitar that was originaly intended to replace Fender's original budget trio, the Mustang, Bronco, and Musicmaster. The Lead series comprised Lead I, Lead II, Lead III and Lead Bass models. On the French TV channel MCM in 1985, Chris Rea played the black Fender Lead III with two humbucking pickups. The Lead III model had two specially designed humbuckers, one at the neck, the other at the bridge. Three-position pickup selector switch (neck, neck and bridge, bridge), three-position coil selector switch (neck single-coil, both coils neck or bridge, bridge single-coil) which determined if a single coil or both coils of each pickup will be selected. Chris' guitar had black body (slightly smaller and with a slightly different shape than the Strat), black pickguard, and maple neck with a Stratocaster-like headstock.
Source: Wikipedia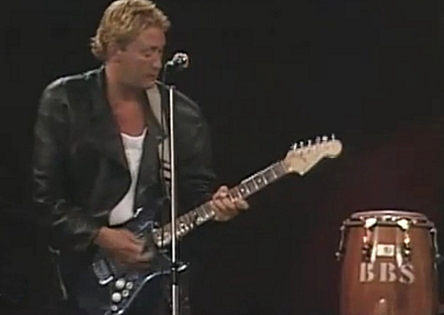 Posted in Chris Rea-ish  |  Please leave your comment
Posted on 16/09/2013 by ozzy in Chris Rea-ish, Signature models
In 1999, Fender produced the Chris Rea signature Pinky Stratocaster as a part of its Mexico made "Classic Series '60s". This signature is a copy of Chris' famous red '62 Stratocaster, which he calls Pinky. He actually played this Mexican copy on the Road to Hell: Part 2 album along with the original. No more than 500 of them were made for European market only, making this a very rare collectors item. All artist royalties from it went directly to charity.

In the interview for Guitarist magazine (Nov 1999) Chris Rea explains: "Fender approached me to do the guitar and any proceeds are going to the NSPCC. But also it's nice to be able to tell people there's such thing as a slide guitar, as it often gets lost in the commerciality of the business. If we have a hit record, it'd be great to think that some kids might be inspired to start playing that kind of music." As well as the instrument itself, there's also a slide tuition video that comes with the guitar. "That was something I insisted upon, because you have to block the trem off and raise the action to do the tunings and I explain all this in the video. It's about 25 minutes long and it's just me playing slide. It'd give me a lovely smile if we saw someone on television in five years' time who said he'd listened to what I was doing and taken it somewhere elese. What you're really getting is an alternative instrument; it's not a guitar as guitars go, and that'll do me."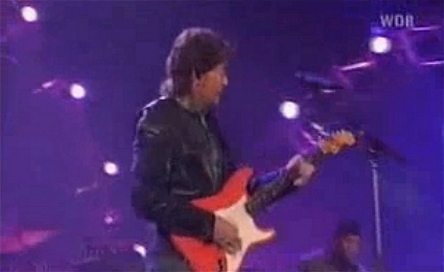 The basic specs of Chris Rea signature Pinky Stratocaster are as follows: Poplar body, faded fiesta red colour called salmon pink; white pickguard (mint green) and aged plastic parts; D-shape maple neck with rosewood fretboard, 21 frets, 7,25 radius; vintage Kluson tuners and vintage tremolo. Each guitar came with tutorial video (see below, it's really amazing), bottle-neck, little block of wood to block the tremolo off, gigbag and two decals to decorate your instrument the Chris Rea way.
Source: Guitarist (Nov 1999)
Posted in Chris Rea-ish, Signature models  |  Please leave your comment
Posted on 27/08/2013 by ozzy in Chris Rea-ish
Pinky '62
(Red body - white pickguard - rosewood fretboard)
The guitar that is the most connected to Chris Rea is his old battered '62 Fender Stratocaster, which he calls Pinky. According to Chris, the guitar was kind of candy apple red colour when he got it, but in fact, it looks more pink than red now - hence Pinky. The guitar was submerged in water for three weeks, due to an accident that happened in Chris' basement studio when he went to see his parents for Christmas. Pinky survived, but he certainly wouldn't recommend the same treatment for your guitar.
Pinky has an out of phase pick-up setting that doesnt sound like a normal out of phase setting. It's not as hard as 61/62 Strat. It's loud, and the tone is very wide. It doesnt have the bite, its very feathery, but, according to Chris, that makes Pinky beautiful for the slide guitar type of playing.
There are three stickers applyied to Pinky: Formentera (an isle that belongs to Balearic islands), Lotus Seven Club, and the J. Alesi Ferarri sticker placed on the rear. Chris owns another, almost identical red Strat with the Formentera sticker on it, but while this second guitar has a standard tuning, Pinky is tuned to an E.
As could be seen on the below picture from "Road to hell and back" tour DVD (2006), Pinky had its original Fender pick-ups replaced with a single-coil-sized "rails" humbuckers for a short while. Nevertheless, the Fenders were back on the Santo Spirito tour in 2012 though.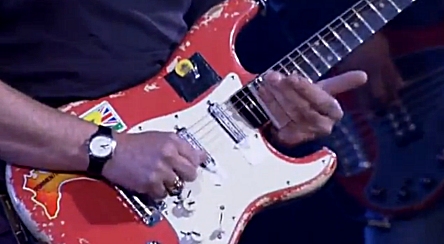 Below is break down of Fender Stratocasters that Chris Rea used during his career. See the pictures of all listed guitars in the gallery also.
Bluey '62 - Pinky's blue cousine named Bluey, used since the late 80s (daphne blue body - white pickguard - rosewood fretboard)
Blue Strat with a sticker - acquired in 1985, used that same year - with some white sticker - at Montreux pop festival. Used again one year latter, but this time with the classic Formentera siticker on it (lake placid blue body - white pickguard - rosewood fretboard)
Red '70s Strat - used at Peter's popshow in 1985 (red body - black pickguard - maple fretboard)
Sanburst '70s Strat - used Live in Paris 1979 (sunburst body- black pickguard, white knobs - maple fretboard)
Sunburst '70s Strat with maple fretboard - used on Live broadcast at BBC TV 1988 in Windy Town (3-tone sunburst body - white pickguard - maple fretboard)
Sunburst Strat with maple fretboard - used on TV in God's Great Banana Skin (3-tone sunburst body - white pickguard - maple fretboard)
Sunburst Strat with rosewood fretboard - used at David Letterman show in 1991 (sunburst body - white pickguard - rosewood fretboard)
Black Strat with locking nut - used on TV around 1988 for On the Beach (black body - black pickguard, white knobs - rosewood fretboard)
Black Strat with rosewood fretboard - used on TV in Winter Song (black body - white pickguard - rosewood fretboard)
Black Strat with maple fretboard - used on TV in Soft Top Hard Shoulder (black body - white pickguard - maple fretboard)
Pink Strat - used at the German TV show "Stars of 97" (shell pink body - white pickguard - rosewood fretboard)
White '60s Strat - used on Top of the Pops in 1985 for Stainsby Girls & Josefine (white body - black pickguard, white knobs - rosewood fretboard, small headstock with CBS logo)
White Strat with tremolo arm - used at Rockpalast show in 1983 (white body - white pickguard - rosewood fingerboard)
Silver Strat with tremolo arm - used around 1988 on German TV in Driving Home for Christmas (silver body - white pickguard - rosewood fretboard)
Red '80s STRAT - used in Driving Home for Christmas video from around 1987 (red body - white pickguard - maple fretboard, red headstock, gold-plated hardware)
Red Squier Affinity Strat - used at Carmen Nebel show on German TV in 2009 (red body - white pickguard - rosewood fingerboard, large headstock)

Posted in Chris Rea-ish  |  Please leave your comment