Posted on 23/11/2013 by ozzy in The Blog
It's not very well-know fact that in the late 80s David Gilmour used a Charvel San Dimas guitar for a short while. He played several shows with it, for example the Pete Townsend's Rockpalast concert, the Colombian Volcano Relief Concert at Royal Albert Hall (both 1986), or some shows on the first leg of the 1987 Momentary Lapse of Reason US tour.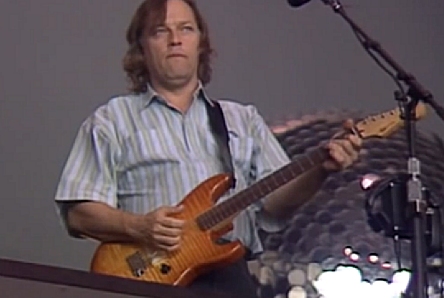 Gilmour got his Charvel San Dimas in 1984 in Germany during the About Face tour. The original humbucking pickup was replaced with an EMG, and a custom dual-concentric volume pot with SPC (Strat Presence Control) boost was installed to replace the original volume pot for a fatter and louder tone. The guitar is of honey-flame colour, has maple body and neck with rosewood fingerboard, locking-style tuners, and had Kahler brass tremolo, later replaced with Fender.
David Gilmour also owns a visualy matching bass.