Posted on 10/02/2013 by ozzy in The Blog
The Danelectro Chicken Salad is a piece of plastic marketed as a vibrato effect. Having said that, it's basically an Uni-Vibe clone and it definitely gives you a taste of the Uni-Vibe sound for a fraction of the cost. So if you can't afford to get an Uni-Vibe, this pedal would be a nice little alternative. The Danelectro Chicken Salad sounds great for its price, it has a nice phasey and swirly tone, and I think you really should try this pedal before spending your money on a different Uni-Vibe clone. I mean, if you are interested in Uni-Vibe and don't have much experience, this is a good point to start from.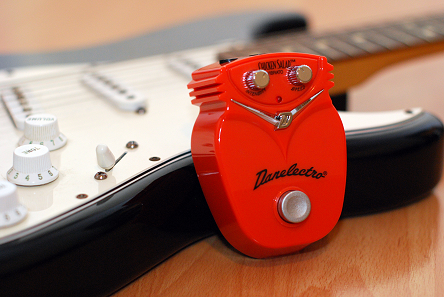 Introduced in the late 60s, the original Uni-Vibe pedal was intended to emulate the Doppler effect of a Leslie (rotating) speaker. Though often associated with chorus, this pedal is in fact a very specific phase shifter. David Gilmour used it on the recording of Dark Side of the Moon album - mainly on Breathe and Time, Jimi Hendrix used it too, notably on Machine Gun and Hey Baby.
Like the rest of the Danelectro's pedals from their "food series", the Danelectro Chicken Salad has a cheap plastic enclosure, cheap plastic knobs (for intensity and speed), cheap plastic switch, cheap plastic jacks (in, out, 9V), cheap plastic... you name it, and also included is a removable plastic protective cover for keeping the knobs from getting damaged. If this pedal was housed better, I would gladly pay more than I did. Another issue is - as it uses the same photo-cell technology as the original - that it kills a 9V battery in a few minutes, so you will have to use an adaptor.
Now I think about it, everything on this pedal sucks - EXCEPT how it sounds! And that's what counts...
Pros:
decent sounding and affordable Uni-Vibe clone
Cons:
might not get onto your pedal board because of the cheap look
battery is wearing off too fast
discontinued