Posted on 15/06/2013 by ozzy in Wrightish
The Farfisa brand name is usualy associated with the series of compact electronic organs manufactured in Italy. Richard Wright acquired his first Farfisa - a single manual model Combo Compact - in 1964, later, around 1966, he switched to a two manual model Farfisa Compact Duo. The Farfisa, fed into the Binson Echorec device, had become an important part of early Pink Floyd (I particulary love what Wright did with it on Careful with that Axe, Eugene.) In the late 60s, he began using a Hammonds alongside the Farfisa, as well as a various models of synthesisers and electric pianos. The final chapter for the Farfisa was the Dark Side of the Moon period. The instrument can be heard on the studio recording of Time, and also on stage during the band's live performance at the Knebworth festival in 1975. In 2006, Richard Wright's rig for David Gilmour's On an Island tour incorporated - along with the Hammond organ and Kurzweil synth - the Farfisa with Echorec also.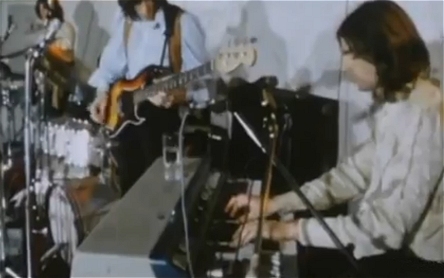 How to get the sound: If you want to achieve Rick Wright's sound of the Farfisa combo organ, it's more than convenient to download a virtual instrument instead of buying the real thing. Combo Model F is a free VST plug-in, based on the Farfisa Mini Deluxe Compact, that will do the trick very well. You can download it from Martinic.