Posted on 30/04/2013 by ozzy in The Blog
The Eleclady pedal is a copy of the legendary Electric Mistress flanger, and it's produced by Chinese manufacturer Mooer Audio. With the Eleclady you can pretty much nail a Pink Floyd's tone and vibe of the late 70s as well as the Andy Summers signature sound of The Police's classics (typically Bring on Good Night, De Do Do Do, De Da Da Da, Roxane...).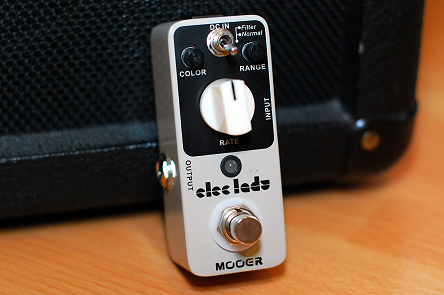 The Mooer Eleclady has a tiny little enclosure with a Normal/Filter mode switch and a three control knobs - Rate, Color, and Range. Depending on what song you want to play, the rate usualy needs to be set exactly at, or a little before, 3 o'clock. This is the sweet spot where your tone starts to be nicely "detuned" and where the Eleclady sounds best. If you turn the rate to after 3, it could be just too much. With the mode switched to Normal, set the colour to about 10, and the range to about 11. And voila... instant Andy Summers! Or Gilmour, of course...
Well, you are never to beat the original Electric Mistress with your Eleclady, but if you are looking for a decent and affordable clone, and at the same time you are not excited about the EHX's budget models like a Neo Mistress and such, the Mooer Eleclady should be the first option to consider.
Pros:
great clone, great tone
compact size
true bypass
price
Cons:
sounds best clean (isn't that impressive with distortion)