Posted on 30/06/2013 by ozzy in Wrightish
The Hammond organ is an electric organ invented in 1934 and manufactured by the Hammond Organ Company. Richard Wright started using a Hammond organ late in 1960, along with his trustworthy Farfisa Compact Duo, and it had remained in his rig until his death in 2007. Basicaly, every Pink Floyd album since A Saucerful of Secrets has some Hammond organ on it. Wright used several different kinds of Hammond. The first one, featured on the early albums up until Obscured by Clouds, was the Hammond M-102, played through the Leslie 145 cabinet. The next one, Hammond RT-3, was used during the Dark Side of the Moon recording sessions and is also featured in Live at Pompei (below). That said, from the mid 1970s to his last performance, the Hammond B-3/C-3 with the Leslie 122 cabinet had become an important part of Rick Wright's rig.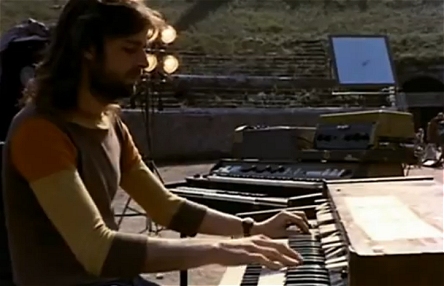 How to get the sound: To achieve the sound of a Hammond organ, install the ORGANized Trio VST plug-in. It's based on the Hammonf B-3 model and it's absolutely free. It also has a preset called "Pink Echoes". Download it from GSi.