Posted on 18/05/2012 by ozzy in The Blog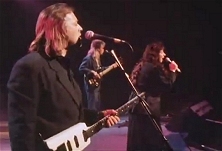 Or should I call this article High Hopes? As I remember, Steinberger guitar was one of the iconic "must-have" things of the 1980s. David Gilmour recorded the guitar parts and solo in Sorrow from A Momentary Lapse of Reason album on it, and he also played it live with Kate Bush at the Secret Policeman's Ball in 1987. Being a bit nostalgic, I purchased one of Steinberger's latest models manufactured by Gibson in Korea. Frankly speaking, it was not the best thing I've ever done, so here is my opinion that may help anyone who is thinking of buying Steinberger Synapse SS-2F guitar:
Pros:
Great look, great feel.
Convenient size and shape, easy to travel with.
Easy to re-string.
Cons:
Tone. I have a mixed feelings about it. Yes, I know, good sound is very subjective issue and it's all down to personal preferences, but in my opinion, Synapse does not have a very impressive tone (considering the price). It's muddy and synthetic with not much likable character.
Thick neck. Some may appreciate it, but, again, it depends on what you prefer.
Strap hook. Sometimes, it can get in the way when playing the higher notes. And its sharp edges could rip and tear the leather-end of your strap.
Weight. Synapse is not much lighter than the regular guitar with the solid body.
2-ball strings. Cost more than the regular 1-ball strings.
1-ball strings. Unfortunately, they slip from the head screws sometimes.
Tuning. I'd expect a more stable tuning.
You can find more about Steinberger Synapse SS-2F on the company's website.