Posted on 05/07/2015 by ozzy in The Blog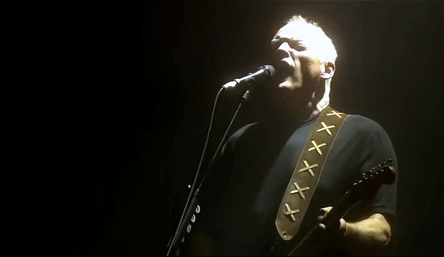 This cross-stitched chocolate suede guitar strap in question has perhaps become as famous as its owner's black stratocaster. This strap was owned by Jimi Hendrix, and in 2006, it had been given to David by his wife Polly Samson. From that point on, we, Gilmour fans, had wanted to own such strap, too.
The first guitar strap manufacturer who seized the opportunity here was Jeri designs. Their replica looks beautiful, but the price is insane. So I did a small research to see, what other manufacturers have to offer. Soon, I had found that most of their copies were surprisingly lame. Some of the manufacturers simply din't bother to copy it properly. Either colour, or shape, or both were wrong. Wouldn't it be cross-stitched, you perhaps wouldn't recognize the strap at all.
Finaly, certain Greek manufacturer Paul Minotaur got the design adequately right. And the price seems to be within the reason, too.
The only drawback is that their strap should be a lot more flexible on its length adjustment. And another issue is that it doesn't look very secure to use. It takes just one(!) cap rivet to keep everything together, and I have absolutely no doubt about what will happen, if I jump on stage too much. If you need to shorten your strap a lot more to ensure the best playing position, you will have to plant another rivet in it. I also recommend replacing the leather end of the strap (the end where strap button goes) for something made of a material you can trust. Applying a buckle-like-something that will prevent your strap to go loose whenever the rivet fails, won't hurt either. I wouldn't dare gigging with my priceless Strat like that before I do the above.
Here folows the break down of a Gilmour Hendrix straps available on the market at the time of writing this: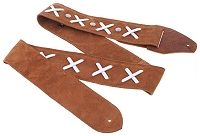 « 1) Paul Minotaur / The Legend
Price: $66 (59 EUR)

2) Jeri designs / Replica Price: $250

« 3) Jeri designs / Modified
Price: $99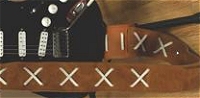 « 4) Tundra Leather Price: N/A

» 5) Dave Brown / Another design inspired by Jimi's strap by Minotaur
Price: 38 USD (34 EUR)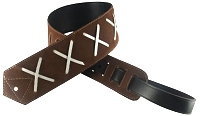 « 6) Basso straps / DG-02
Price: $16 (R$ 45,90)

7) Martin Pryce Leather / Gilmour replica strap
Price: $120 (79 GBP)