Posted on 19/07/2014 by ozzy in The Blog
I haven't owned many Electro-Harmonix effects as they never were my favourite. Recently, EHX started producing very interesting pedals, and I had decided to take a good look at them. The Soul Food, a copy of the legendary Klon Centaur overdrive was in my scope for some time. Just as well as the Satisfaction, which is a copy of a Gibson Maestro Fuzz-Tone pedal. Today, we are going to look at something even more special. The EHX B9 Organ Machine, which emulates sound of a classic Hammond B3/C3 organ from the 60s.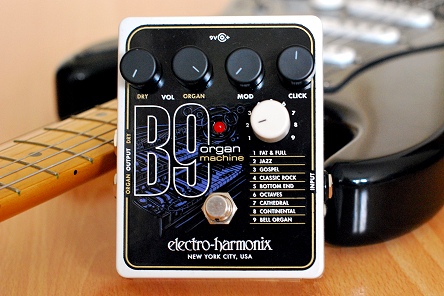 Presets
The EHX B9 offers nine different presets: Continental preset sounds very much like a Vox Continental, and can certainly be used to simulate Rick Wright's Farfisa. The Bell Organ patch is a cross between an organ and electric piano (Fender Rhodes, Wurlitzer). The Cathedral patch makes your guitar sound like a giant cathedral organ. The Fat & Full patch adds an extra octave below and above to make your guitar sound big; Jazz preset reminds of Jimmy Smith tones; Gospel has the upper octave drawbars added; Classic Rock captures the sound of songs like "Whiter Shade of Pale," by adding a touch of distortion. The Bottom End preset has the lower draw bar sound that reminds a bass line on Sugarloaf's "Green Eyed Lady." And the Octaves preset adds one octave above, which sounds like "Your Time is Going to Come" by Led Zeppelin.
Controls
With the Dry and Organ Volume controls you can mix both guitar and organ signals together by adjusting their volume levels. These signals could also be outputted to two different amplifiers. The Mod knob controls the speed of modulation. The type of modulation depends on the preset selected - available modulations are chorus (presented in most presets), tremolo (Cathedral, Bell), and vibrato (Continental). The Click knob controls a percussive level, which was designed to simulate the harmonic percussion effect on a classic B3 and C3 organs.
Playing
To make your guitar sound like a Hammond, you will have to play it differently than you are used to. You cannot play on guitar what cannot be played on a real organ. So be prepared that most of your favorite licks will have no use here. On Youtube, there is quite a few demos where guys do exactly the opposite. They play very "guitar-oriented" way, and it shows...
Tracking
Some people I have spoken to were concerned about possible tracking issues (tone latency), but this question is quite irrelevant. The B9 doesn't use midi, samples, sound triggering, etc. It's a completelly different process. What you are hearing is actually sound of your guitar being processed with a B9 circuit. Hence changing your guitar, pickup or adjusting tone will also affect the organ sound.
Sugar on the top
The software and emulation algorithm were created by David Cockerell, who designed the EMS synths of Pink Floyd fame.
Pros
Nine quality presets (Hammond, Vox Continental, electric piano...)
Easy to operate
Two separate outputs for dry and organ signal
9V Boss-style power supply
Nails Rick Wright tones
Cons
Buffered bypass
A bit pricey