Posted on 04/08/2013 by ozzy in Wrightish
Electric piano was another keyboard instrument that contributed greatly to a Pink Floyd sound. Through the years, Richard Wright used two different makes of electric pianos - Fender Rhodes and Wurlitzer. On the Rhodes he played mainly his jazzy, bell-like melodic lines, while he rather did a funky, rhythmic parts on the Wurlitzer.
Perhaps the most notable Pink Floyd album featuring a Fender Rhodes electric piano was Animals, where Wright used it beautifully on the intro to Sheep. Hey You from The Wall is another good example of his piano playing style - he always knew exactly which note to play and which to leave out. Amazing.
On stage, he could be seen playing the Fender Rhodes Mark I Stage Piano, a model that Fender introduced in 1970. The Stage Piano was pretty much based on the Fender Rhodes Suitcase Piano from 1969, but it was modified for use with an external guitar or bass amplifier. It also had a simplified front panel with only volume and bass EQ controls, a sustain pedal, and detachable legs. The inside of Stage Piano was nearly identical to the Suitcase model.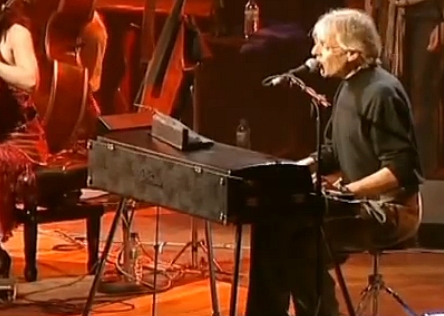 How to get the sound: To acquire the sound of a Rhodes electric piano, go to the GSi website and download their free MrRay73 VST plug-in.