Posted on 15/08/2012 by ozzy in The Blog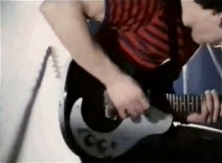 If you ever wanted to purchase a "signature" instrument without spending a fortune on it, then maybe you want to consider a '59 double-cutaway by Danelectro. Syd Barrett played this guitar during his earlier performances, before switching to Fender Esquire/Telecaster (see the Pink Floyd at the UFO Club in 1966), and also Jimmy Page (Kashmir), Eric Clapton, Mark Knopfler, Andy Summers, and young Jimi Hendrix used this model to name a few.
The 3021 - as the original model was named - was introduced by Danelectro in 1959. Since then, there have been multiple re-issues of this line of guitars.
First thing you need to know about the Danelectro 59-DC re-issue is that this guitar is surprisingly cheap - which is not necessarily a bad sign, because Danelectro's original was also built from inexpensive materials to make it more affordable. The 59-DC is a budget re-issue of a budget guitar, so there are no scaled-down specs due to production costs. The guitar itself has a light, toy-like body made of a plywood frame covered in a masonite (which is a type of hardboard). The C-shaped neck is made of poplar, the pickups are two serial-wired "lipstick" style Alnico single coils (lipstick due to the chrome cylindrical cover over them). The bridge and the top nut are made of aluminium, the bridge is with a rosewood saddle. All these factors somehow contribute to the Danelectro's unique tonal character, and as hard as it might be to believe, the guitar sounds remarkably good. Particularly when you consider what it costs. Aside from the heavy metal, it fits reasonably well in almost any genre.
Pros:
Pink Floyd-related
great vintage look and feel
distinctive sound
comfortable neck to play on
lightweight
surprisingly stable tuning (definitely better than on my "so-called-hi-tech" Steinberger Synapse SS-2F)
sounds great with a bottleneck (see Mark Knopfler playing Donegan's gone and Right now, or Jimmy Page on In My Time Of Dying)
Cons:
there is a slight chance that you may not like it
lack of intonation adjustment
inconvenient access to the guitar's upper register notes