Posted on 02/06/2013 by ozzy in The Blog
The Chinese manufacturer Mooer Audio produces an impressive range of clones of well known guitar pedals. The Eleclady, for instance, is a nice budget copy of the EHX Electric Mistress flanger, the Ultra Drive is in fact a Boss DS-1 distortion with the Keeley mod, while the Mooer Pure Boost is a clone of an Xotic RC Booster.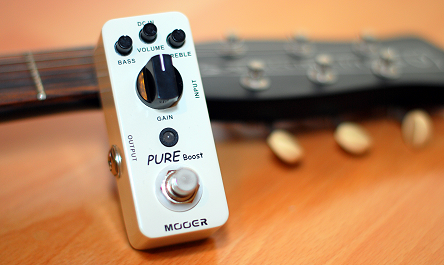 The Mooer Pure Boost has a small metal enclosure with a three control knobs - Gain, Volume, Treble, and Bass. It produces 20 db of a clean boost and to my ear it's perfectly transparent. It needs some EQ adjustments to keep your original signal unaltered though (the volume needs to be set at 2 o'clock and the gain on 0). Even with the gain on 0, you still have enough volume to amplify your solos. Turning the gain up starts producing some grit that gives your amp "this extra push over the cliff". The treble and bass controls work as a +/- 15 db EQ to help your guitar cut through the mix.
A nice little pedal realy! Highly recommended.
Pros:
transparent
versatile
small, pedalboard-friendly size
silent
true-bypass
price