Amps
Posted on 21/10/2018 by ozzy in Amps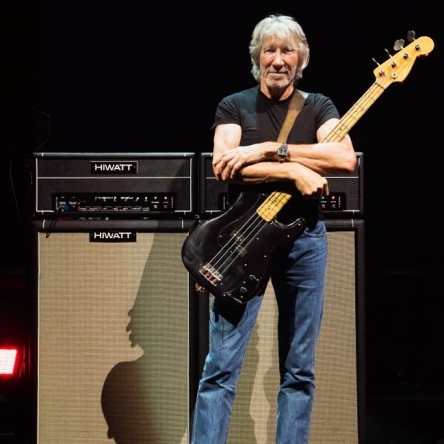 Starting 2017, the Us+Them tour witnessed an unexpected return of Hiwatt amps to the Roger Waters bass rig. He employed a pair of Hiwatt Custom 200 - DR201 bass amps. Along with two speaker cabinets: one Hiwatt 8x10 cabinet "SE810C/F" custom built for Roger, the other cabinet was a Hiwatt Full Range cabinet 4x10 + 1x15 "SE115410F".
Posted in Amps  |  Please leave your comment
Posted on 19/09/2017 by ozzy in Amps, The Blog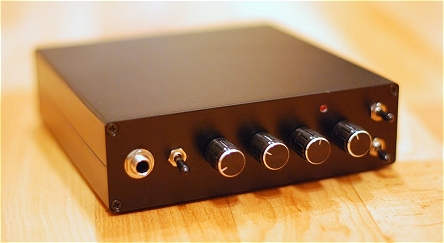 The Alembic F-2B preamp is often referred as the secret ingredient of David Gilmour's tone. But it was originally meant for improving Roger's bass rig. It's a straight up copy of preamp section of a Fender Dual Showman, which is a copy of the basic circuit found in a RCA Receiving Tube Manual from 1948!
These preamps are still available, even today, but they don't come cheap. If you are after the original unit, be prepared to pay about $1,500.
The good news is that the same preamp can be purchased for much less than that. Just go to FrogPedals.com and look for the Frog Tube Preamp. You have two buying options there: a) complete Frog Tube Preamp Fx1 unit, or b) DIY printed circuit board (PCB) to make your own preamp.
As you can see on the pictures, my build is PCB based and has some additional improvements - such as hi-cut switch, two switchable clipping diode pairs (Germanium and Silicon), and optional 6/12V tube heater switch. It's powered by standard 9V DC power supply - 9 volts DC is pumped up to a 185+ volts DC which is supplied to the standard tube amp circuitry for Class A operation.
It provides a clean sound with a nice vintage feel, and handles all my pedals perfectly.

Posted in Amps, The Blog  |  Please leave your comment
Posted on 07/12/2013 by ozzy in Amps, Effects
It was quite common to see Pink Floyd with the HH Electronic IC-100 amps on stage in the early 70s. While the rest of the band used their IC-100s only as pre-amps, Roger Waters used it also together with a Binson Echorec delay unit to produce a tremolo effect. (See One of These Days track, 2:00 - 2:30).
"One day, Roger decided to take some of the techniques that I was developing and try them out himself on bass. And he came up with that basic riff that we all worked on and turned into One of these Days," says Gilmour to Guitar World magazine.
"For the middle section, another piece of technology came into play: an H&H amp with vibrato (sic). I set the vibrato to more or less the same tempo as the delay. But the delay was in 3/4 increments of the beat and the vibrato went with the beat. I just played the bass through it and made up that little section, which we then stuck on to a bit of tape and edited in. The tape splices were then camouflaged with cymbal crashes."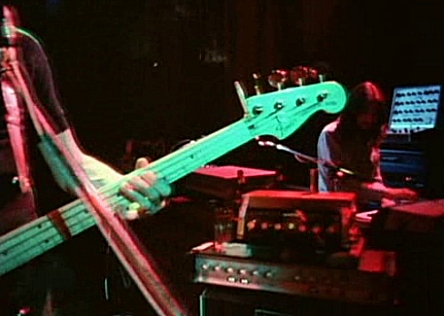 The IC-100 solid state amps were manufactured by the UK company HH Electronic (now owned by Laney). They offered the 100 watts RMS of undistorted output, two channels with a full range of tone controls and a volume control on each channel. Each channel had two inputs, normal and bright. In addition to a Volume, Treble and Bass knobs, the amp had a Presence control on channel 1 and a Brilliance on channel 2. On the first channel there was a Sustain that fattened-up the sound by adding an extra gain/harmonics in parallel to the existing signal. Effects (controlable with a footswitch) included a Reverb and Tremolo.
Posted in Amps, Effects  |  Please leave your comment
Posted on 15/12/2012 by ozzy in Amps
Pink Floyd used borrowed or in-house equipment on several occasions during 1968-69. For instance, a TV footage from the 1st European International Pop Festival in Rome (1968) shows the band using a Vox amps and speakers on stage. Roger Waters and David Gilmour are both seen playing through a Vox UL 400 and Vox UL 700 series amp based rigs.
In 1966, Vox decided to refresh their amp line by introducing a new series of guitar and bass amplifiers, known as the UL Series, with "400 series" models for bass and "700 series" models for guitar. These new amps were intended to replace the popular "AC series" lineup. They were based on a modular, hybrid design featuring solid state preamp with a tube power section. The 15, 30, 60 and 120 watt versions of these amps were produced, although in very small quantities.
On the pop festival in Rome, Pink Floyd used either the 60, or most likely 120 watt versions of these amps (i.e. the Vox UL 4120s and UL 7120s) during their performance. The ULs were also used on The Beatles' Revolver and Sgt. Pepper albums.
See Vox Showroom for more info.
Source: Vox Showroom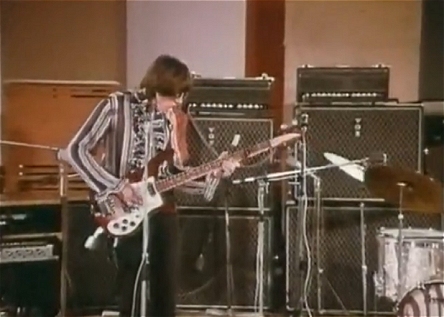 Posted in Amps  |  Please leave your comment
Posted on 30/09/2012 by ozzy in Amps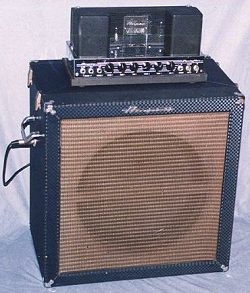 During the Los Angeles Wall recording sessions (1979) Roger Waters' rig included an early '60s Ampeg B-18N Portaflex bass amplifier with an 18 inch driver (while for the sessions at Britannia Row he used a Fender Bassman 50 amp with a matching 2x15" speaker cabinet).
The Ampeg B-18N Portaflex bass amplifier was introduced in 1963 as a larger and more powerful companion to then popular B-15N. The B-18N had an 18 inch Cleveland speaker (with a ceramic magnet) and shared the B-15N's preamp circuit. At 60 watts, the B-18N had twice the power of the B-15N. It was designed as a dual channel amp, with two inputs for channel 1 (Guitar, Bass), and one input for channel 2 (Instrument). Each channel had the separate controls for bass, treble and volume. As the B-18N never attained the popularity of the B-15N, the production did last until the end of 1967.
Posted in Amps  |  Please leave your comment
Posted on 14/07/2012 by ozzy in Amps
Roger's rig for the Wall recording sessions at Britannia Row (1979) included Fender Bassman 50 amp with a matching 2x15" speaker cabinet (while for the Los Angeles sessions he used an early '60s Ampeg B18N blue Portaflex with 18" bass driver).
The Fender Bassman is a bass amplifier introduced by Fender in 1952. Although originally designed for bass guitar amplification, it became more known for usage as a normal electric guitar amplifier. When company began producing a reissue of the 1959 Bassman in 1990, that reissued '59 Bassman was re-categorized as a guitar amp rather than a bass guitar amp. (In 1993, David Gilmour used the 1959 reissue combo for the Astoria jam/recording sessions of The Division Bell album.)
The Bassman 50 model with silverface piggyback head that Roger Waters had during the Wall sessions in London, was manufactured by Fender between 1972 - 1977. It featured 50-watt RMS power with 110-watt peak music power, dual channels with separate control on each, "deep" switch in bass channel and "bright" switch in normal channel.
The latest version so far is the '59 Bassman LTD guitar combo. The LTD version has a lacquered tweed covering and 4x10" Jensen speakers instead of the Eminence speakers used in the earlier '59 Bassman reissue series. In 2012, Fender introduced the Bassman PRO series of heads and cabinets, which are primarily targeted at bass players.
Source: Wikipedia, Fender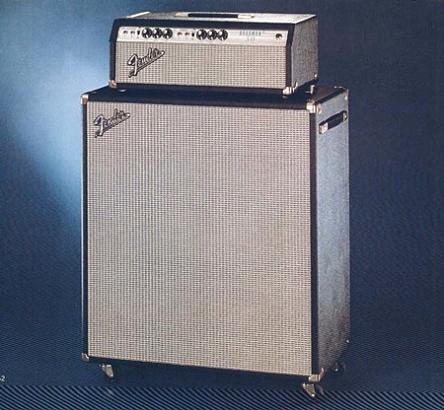 Posted in Amps  |  Please leave your comment
Posted on 20/04/2012 by ozzy in Amps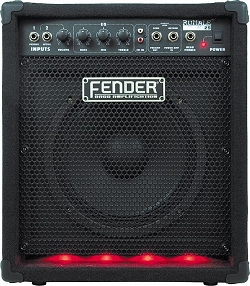 "In January, just before we went to Australia, New Zealand, Chile, Argentina and Brazil, I wanted to play a bit, to get the fingers moving, so I asked G.E. to come to Breathe Editing where we were working, to hang and play. We played some stuff from the Wall which was cool, but also, at the end, we just jammed around a little bluesy thing in E. Andy Jennison, my editor captured a little bit on his iPad. I sort of like it. I sometimes forget what a privilege it is to to play with the guys in my band," says Roger Waters about the video he posted on his Facebook page, where he is playing the black Fender Vintage '62 Jazz Bass through the solid state Fender Rumble 25 practice bass combo.
The Fender Rumble 25 Bass Combo Amplifier has 25 watts of power, a Fender Special Design 10" speaker, an on-board effects loop, an EQ (bass, mid, treble), a CD input to jam along and a red "stage light" that pulsates with your playing.
Posted in Amps  |  Please leave your comment
Posted on 24/09/2011 by ozzy in Amps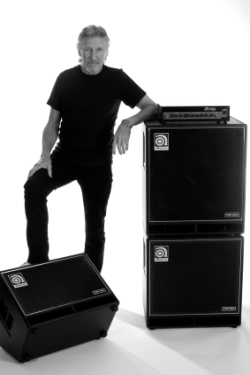 2007 - Present
For The Wall Live tour (2010-2012), Roger Waters chose a pair of Ampeg heads and cabinets side by side with one ready to go as a backup should his main rig fail. Nevertheless, he also kept his previous rig based on two Ampeg SVT-6PROs with three 4x10 cabs (two running, one spare). The same system was used throughout the Dark Side of the Moon tour.
Heads: Ampeg SVT-7PRO
The SVT-7PRO has the same features as the other PRO Series heads including a 5-position mid tone control, remote switching FX loop and an onboard compressor. The tube preamp contains a JJ 12AX7 tube that feeds the Class-D power section.
Cabinets: Ampeg PN-410HLF
The Ampeg's PN-410HLF is a lightweight bass enclosure built to handle the power of high-output bass heads. Among others it ncludes the four custom-designed 10-inch neodymium Eminence woofers.
850 watts power handling
4 x 10˝ Eminence neodymium LF drivers
1˝ Eminence APT:50 HF driver with level control
Source: Ampeg.com
Posted in Amps  |  Please leave your comment
Posted on 14/09/2011 by ozzy in Amps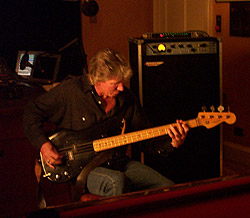 19xx - 2005
Obviously the very last live performance where Waters played his two Ashdowns was the Live 8 in London, 2005. After leaving the Ashodown, he went for his new Ampeg rig during the Dark Side of the Moon Live tour, 2006 - 2008.
Originally developed for bass-legend Mark King, the King Combo combines the features of the ABM 500 EVO II head with 8x 10" Ashdown BlueLine drivers in a plywood cabinet. The cabinet is constructed from birch ply with screwed and glued joints, protected by a buffalo leather cloth covering and chromed metal corners. All amplifier chassis are built from heavy-duty 16 swg zinc coated mild steel, foil lined to minimise interference.
Source: Ashdown.com
Posted in Amps  |  Please leave your comment
Posted on 14/09/2011 by ozzy in Amps
1978 - 19xx
In the early 70s Roger Waters used Hiwatt amps with a WEM cabinets that he later replaced with a Martin bass bins. He had two of these rigs - one on each side of the drum kit to enable Gilmour to hear his bass. This equipment last until late 70s when guitar tech Phil Taylor built him a new Phase Linear 700 amplified bass rig, later supplemented for The Wall live shows with Martin Philishave mid-range cabinets. And because Roger Waters and his "surrogate" Andy Bown both played bass, there had to be two bass rigs on each stage - two Altec rigs for the front stage and two Phase Linear-amplified Martin rigs at the rear.

Introduced in 1970, the Phase Linear 700 amplifier got its name from its combined output of 350 watts per channel. Redesigned the 700 B was introduced in 1974, the 700 Series Two was introduced in 1978. Performance included 360 watts per channel and other improvements.
Posted in Amps  |  Please leave your comment
Posted on 14/09/2011 by ozzy in Amps, Effects
1971 - 1978
During most of the 70s Roger's rig consisted of Hiwatt Custom 100 DR103s and WEM Super Starfinder 200 (4x12) cabinets. This setup would last utnil about 1978 when Phil Taylor built him a new Phase Linear 700 amplified bass rig.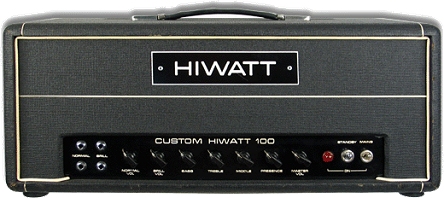 In the 1970 the band also used HH Electronic IC-100 solid state amps, setting them as pre-amps (see the Live at Pompeii). Roger also used one on One of These Days for the echoed tremolo effect (see 2:00 - 2:30 on studio recordings). The IC-100s was later replaced with Alembic F2-B amplifiers to serve the same purpose.

On the below picture you can see Roger's rig he used during the live performance of The Dark Side of the Moon at Brighton in 1972 - a Hiwatt amp, HH Electronic IC-100 pre-amp, and Binson Echorec on top.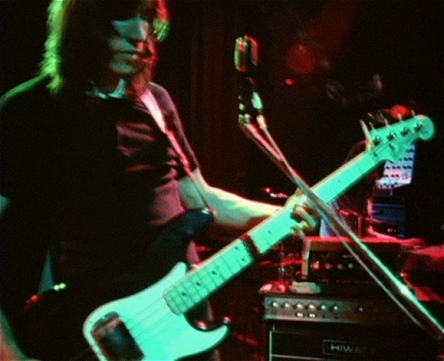 Posted in Amps, Effects  |  Please leave your comment
Posted on 14/09/2011 by ozzy in Amps
1968 - 1971
As can be seen on the Bouton Rouge TV footage from February 24th 1968 and on the other shows that Pink Floyd did between 1968-69, Roger Waters played his Fireglo Rickenbacker through the WEM solid state amp (the ER 100 most likely) and WEM cabinets. His WEM rig last until the early 70s when he went for the Hiwatt amps and WEM 4x12 speaker cabinets like the rest of the band.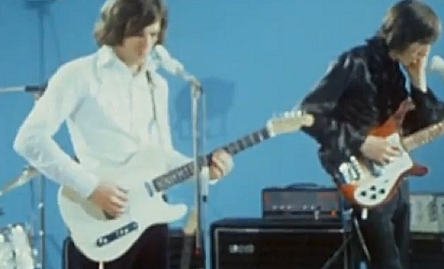 Posted in Amps  |  Please leave your comment
Posted on 14/09/2011 by ozzy in Amps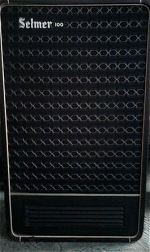 196x - 1968
For the short period of time Roger Waters used Selmer heads and matching speaker cabinets: The Selmer Treble 'n Bass 100 amp head with two channels - bass and normal. And Selmer Goliath 100 Bass Cabinet (1×18"). This rig was used during the recording sessions of The Piper at the Gates of Dawn album in 1967.
He also used Selmer Stereomaster 100 head with Selmer All-Purpose 50 (2×12") Speaker Cabinets like Sid or Dave.