Posted on 30/09/2012 by ozzy in Amps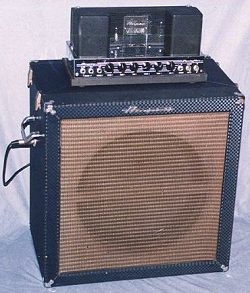 During the Los Angeles Wall recording sessions (1979) Roger Waters' rig included an early '60s Ampeg B-18N Portaflex bass amplifier with an 18 inch driver (while for the sessions at Britannia Row he used a Fender Bassman 50 amp with a matching 2x15" speaker cabinet).
The Ampeg B-18N Portaflex bass amplifier was introduced in 1963 as a larger and more powerful companion to then popular B-15N. The B-18N had an 18 inch Cleveland speaker (with a ceramic magnet) and shared the B-15N's preamp circuit. At 60 watts, the B-18N had twice the power of the B-15N. It was designed as a dual channel amp, with two inputs for channel 1 (Guitar, Bass), and one input for channel 2 (Instrument). Each channel had the separate controls for bass, treble and volume. As the B-18N never attained the popularity of the B-15N, the production did last until the end of 1967.