Posted on 24/09/2011 by ozzy in Amps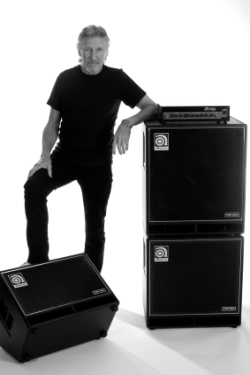 2007 - Present
For The Wall Live tour (2010-2012), Roger Waters chose a pair of Ampeg heads and cabinets side by side with one ready to go as a backup should his main rig fail. Nevertheless, he also kept his previous rig based on two Ampeg SVT-6PROs with three 4x10 cabs (two running, one spare). The same system was used throughout the Dark Side of the Moon tour.
Heads: Ampeg SVT-7PRO
The SVT-7PRO has the same features as the other PRO Series heads including a 5-position mid tone control, remote switching FX loop and an onboard compressor. The tube preamp contains a JJ 12AX7 tube that feeds the Class-D power section.
Cabinets: Ampeg PN-410HLF
The Ampeg's PN-410HLF is a lightweight bass enclosure built to handle the power of high-output bass heads. Among others it ncludes the four custom-designed 10-inch neodymium Eminence woofers.
850 watts power handling
4 x 10˝ Eminence neodymium LF drivers
1˝ Eminence APT:50 HF driver with level control
Source: Ampeg.com