Posted on 20/04/2012 by ozzy in Amps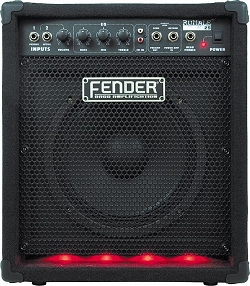 "In January, just before we went to Australia, New Zealand, Chile, Argentina and Brazil, I wanted to play a bit, to get the fingers moving, so I asked G.E. to come to Breathe Editing where we were working, to hang and play. We played some stuff from the Wall which was cool, but also, at the end, we just jammed around a little bluesy thing in E. Andy Jennison, my editor captured a little bit on his iPad. I sort of like it. I sometimes forget what a privilege it is to to play with the guys in my band," says Roger Waters about the video he posted on his Facebook page, where he is playing the black Fender Vintage '62 Jazz Bass through the solid state Fender Rumble 25 practice bass combo.
The Fender Rumble 25 Bass Combo Amplifier has 25 watts of power, a Fender Special Design 10" speaker, an on-board effects loop, an EQ (bass, mid, treble), a CD input to jam along and a red "stage light" that pulsates with your playing.