Basses
Posted on 15/01/2017 by ozzy in Basses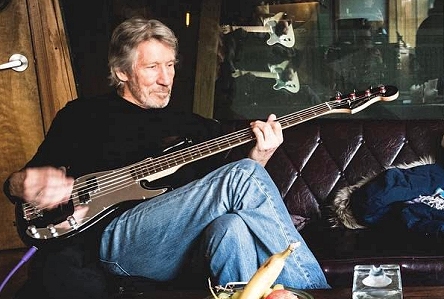 The black Squier Precision Bass first appeared on Roger Waters FB profile in January 2017. Judging from the picture below, Roger played it when he was in studio recording his new album. It's hard to tell if he used it on any particular track, or if he was playing it only because at the moment there wasn't any other bass around.
Fender introduced this fairly inexpensive instrument in 2007 as Squier P-Bass Special Edition. The very first thing that attracts attention is its black glossy finish, accentuated by the chrome hardware and mirror pickguard.
This bass featured an agathis body with a maple C-shaped Jazz Bass neck, the rosewood fretboard with 20 medium-jumbo frets and a 9-1/2" radius.
A split single-coil pickup in the center and a Jazz Bass pickup in the bridge were added for tonal versatility. The both pickups had its own volume control.
Posted in Basses  |  Please leave your comment
Posted on 09/02/2014 by ozzy in Basses
(black body - maple neck - black 3-ply pickguard)
This black bass (serial number 347485) was one of the pair of Fender Precision basses band bought after an instrument theft that happened during their US tour in 1970. It had been played by Roger Waters until he left the band (it still has a cigarette burns to the headstock). After he left, that bass stayed with the band, while he took the other one with him.
Guy Pratt used it for two tracks on The Division Bell album, Coming Back To Life and Take It Back. And this bass could be also seen hanging on the wall behind David Gilmour during his interview about Syd Barrett.
In 2014, the bass had returned, when Gilmour played it on The Endles River album: "This was the bass Roger had from 1974 to '78. It was his main bass. It was played on Wish You Were Here and Animals, mostly. I replaced the pickguard to be black just before the Animals tour, 1976," guitar tech Phill Taylor explains. "Roger had three black basses - one with a rosewood neck, two with maple. But this was his main one. I just asked him if he fancied changing the pickguard to black, just like David's Strat. Late '76, I think. It's a good bass. David plays it on The Endless River."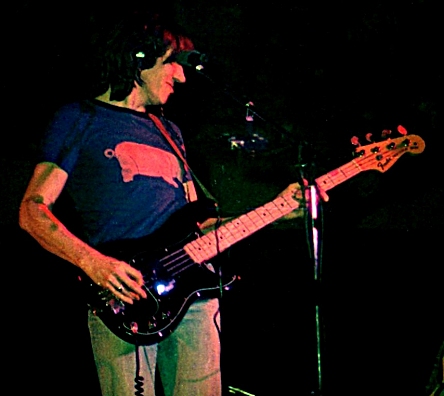 Posted in Basses  |  Please leave your comment
Posted on 15/08/2013 by ozzy in Basses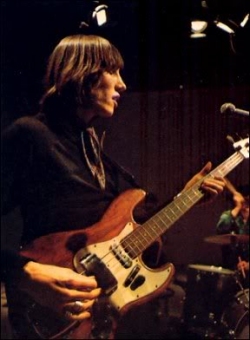 Roger Waters used a Fender Jazz Bass during the Pink Floyd performance of Set the controls of the heart of the sun on the French ORTF TV show "Forum Musiques", broadcasted on 15 February 1969. It's almost certain that the instruments they played were borrowed just for the occasion, because this performance was mimed by the band. Judging by the video footage here, the Jazz Bass Roger used, could originate from between 1960 and 1965 (it's hard to tell from the video, whether his bass had two dual-concentric controls, or three). But it's obvious that it had a natural colour body, white pick guard, rosewood fingerboard with dot markers, and quite interestingly, this bass also had an additional pickup placed closer to neck, with the control knob under a tug bar.
(For anyone interested, the electric guitar that David Gilmour played on "Forum Musique" was a cherry red Gibson ES-355.)
Posted in Basses  |  Please leave your comment
Posted on 22/01/2013 by ozzy in Basses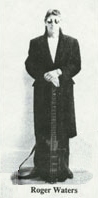 On the picture you can see Roger Waters posing with a Kubicki Ex Factor bass. This picture looks like one of the publicity photos made around the time of The Wall live in Berlin concert (1990), unfortunately, I haven't found any other info or any videos of him playing this bass so maybe he was just posing with it. According to Philip Kubicki - designer and manufacturer of the Ex Factor bass - he hasn't had any dealings with Roger Waters or his staff, suggesting that this bass could be a one of those made by Fender under a licence between 1988-91.
Also, Andy Fairweather Low can be seen playing a red one at The Wall in Berlin concert on Another Brick in the Wall, pt. 1 and Run Like Hell. Roger often lets members of his band use guitars and basses out of his own collection, so it's possible that Andy's Kubicki bass belonged to Roger.
Anyway, I would say that this Kubicki Ex Factor bass is a perfect match to David Gilmour's Steinberger guitar of the roughly same period, so here are some details and specs:
The Philip Kubicki Ex Factor Bass is so named because of the extended string that allows the "E" string to be "D" tuned without changing string tension or having to transpose. The patented string clasp, when released, gives access to the D# and D notes. Going from D to E is accomplished with a flick of the thumb. The standard head-mounted tuning keys were replaced by the patented body-mounted tuner. Factor basses are all fitted with proprietary humbucking pickups and circuit board. The 18 Volt circuit board has a stacked volume/pan control, a bass/treble control and a six position rotary switch that allows the player to select from a standby position through two active settings and three passive preset positions. The neck is made of 32 sheets of rotary-cut Eastern hard maple and an ebony fingerboard. The fingerboard has jumbo frets and a 7 1/2" radius.
Source: Philip Kubicki, Wikipedia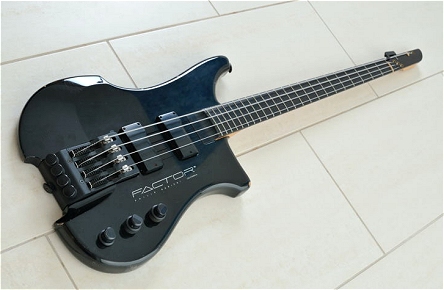 Posted in Basses  |  Please leave your comment
Posted on 13/11/2012 by ozzy in Basses
The 1959 Höfner President 500/5 was Roger's first (pre-Floyd era) bass he played around 1964-65.
Today, Höfner manufactures the vintage version of the 500/5 President bass, inspired by the Höfner models of the 1950s and 60s (as played e.g. by Stuart Sutcliffe in the early days of The Beatles). With a fully hollow 16,5" wide body and fitted with close spaced original Höfner 'Black Bar' pick-ups, and with the Höfner control panel to ensure a sixties style sound.
Source: Höfner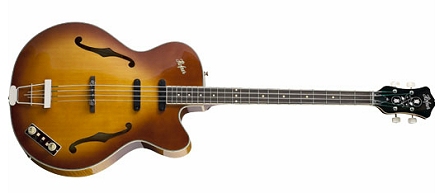 Posted in Basses  |  Please leave your comment
Posted on 27/06/2012 by ozzy in Basses
Black body - rosewood fingerboard - tortoise pickguard
Roger Waters has been playing several basses over his career, and without a doubt prefers Fender Precision over any other model or brand. Besides his fireglo Rickenbacker that he used for a short while before he switched to Precision, there is another bass Roger can be seen with occasionally - the black Fender American Vintage '62 Fender Jazz Bass with rosewood fingerboard and tortoise pickguard. You can see this instrument in the "protest song video" featuring Roger singing We Shall Overcome, and was also used during In the Flesh (2002) and Dark Side of the Moon (2007) tours. First (possibly) as a spare, and then by saxophonist Ian Ritchie in Another Brick in the Wall, part 2. This bass also appeared at Live Earth 2007, and the Live 8 reunion performance where Tim Renwick played it in the second half of Wish You Were Here.
The Fender American Vintage '62 Jazz Bass features the offset waist, ultra-slim fast-action "C" shape neck, stacked concentric controls, full range bi-pole pickups, and a chrome bridge and pickup covers.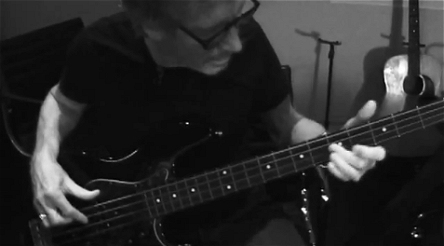 Posted in Basses  |  Please leave your comment
Posted on 16/09/2011 by ozzy in Basses
July 1970 (after instrument theft) - Present
Black body - maple neck - black pickguard
Originaly with a rosewood neck, this bass was re-necked with a maple neck between 1970-72, and re-necked again with the Charvel maple neck in 1978. That year, a Kluson vintage style tuners were fitted, while around 1976 the original white pickguard was replaced with a black one.
In the 80s, two replicas of this bass were made by Fender Custom Shop (also Roger's signature bass is based on them). Since then Roger keeps these replicas as a backup instruments.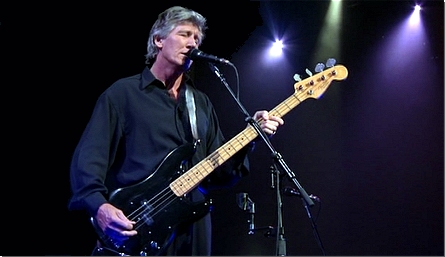 Posted in Basses  |  Please leave your comment
Posted on 15/09/2011 by ozzy in Basses
1968 - 1969
The "camouflage" paint covers the entire guitar body and the headstock - Rosewood neck
Roger Waters played this bass on the 14th April 1969 at Royal Festival Hall (rehearsals of The Man and the Journey). The actual colours of bass are not known since only black and white footage/photos exist.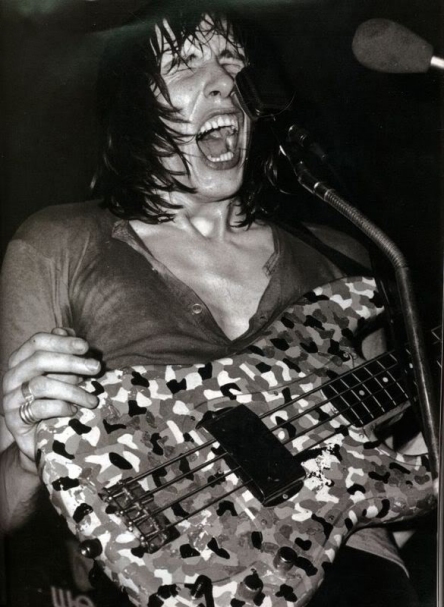 Posted in Basses  |  Please leave your comment
Posted on 15/09/2011 by ozzy in Basses
1969 - 1970 (instrument theft on 16th May 1970)
Olympic white body - rosewood neck - tortoise pickguard
Most likely bought by the band, along with the Gilmour's white strat (see Actuel Pop and Jazz festival, Amougies, Belgium, October 1969).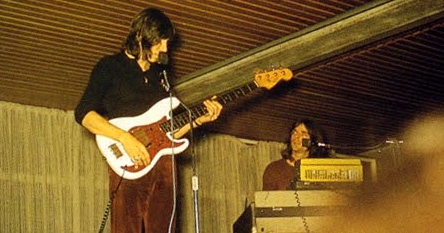 Posted in Basses  |  Please leave your comment
Posted on 15/09/2011 by ozzy in Basses
September 1968 - 1983
Sunburst body - rosewood neck - tortoise pickguard
Before July 71, Roger Waters purchased two sunburst P-basses, one of which was used for the final sessions of Meddle and perhaps on every album up to 1983's The Final Cut.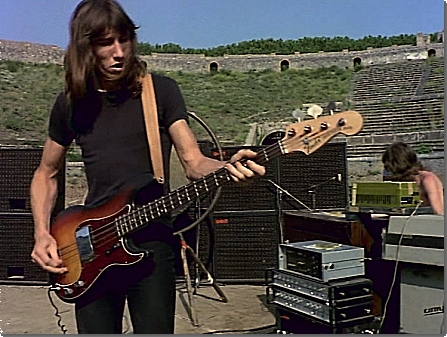 Posted in Basses  |  Please leave your comment
Posted on 15/09/2011 by ozzy in Basses
19xx - August 1968
The Rickenbacker Roger played was officially a Rose-Morris Model 1999, as it was a special-order for the UK importer. Released in the US under the name Rickenbacker 4001S. Its finish is known as Fireglo.
After leaving Rickenbacker Waters went through a several color combinations of P-Basses before settling on the black body and maple neck.