Posted on 15/01/2017 by ozzy in Basses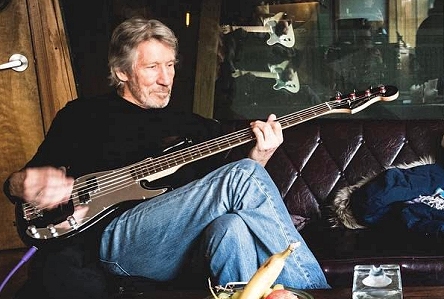 The black Squier Precision Bass first appeared on Roger Waters FB profile in January 2017. Judging from the picture below, Roger played it when he was in studio recording his new album. It's hard to tell if he used it on any particular track, or if he was playing it only because at the moment there wasn't any other bass around.
Fender introduced this fairly inexpensive instrument in 2007 as Squier P-Bass Special Edition. The very first thing that attracts attention is its black glossy finish, accentuated by the chrome hardware and mirror pickguard.
This bass featured an agathis body with a maple C-shaped Jazz Bass neck, the rosewood fretboard with 20 medium-jumbo frets and a 9-1/2" radius.
A split single-coil pickup in the center and a Jazz Bass pickup in the bridge were added for tonal versatility. The both pickups had its own volume control.