Posted on 20/12/2013 by ozzy in Chris Rea-ish
Italia Guitars is a manufacturer of retro-styled electric guitars. The company was founded in 1998 with a line of guitars designed in England and manufactured in South Korea. Most of their guitars are based on other guitars manufactured in the 1950s and 1960s. For example, the basic shape of the Maranello is based on a Swedish Hagström of the late 1950s.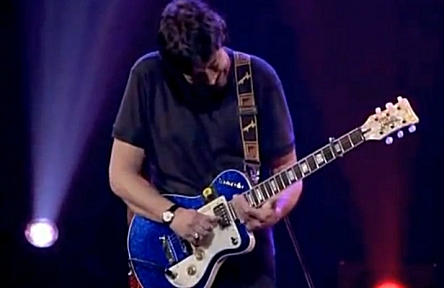 In the interview for Guitar Buyer Magazine (Mar, 2004), Chris Rea explains that during making Stone Road album in 2002, he decided to do something that he hadn't done in 30 years, he started going to Denmark Street guitar shop on a Saturday: "It was like being in a movie. I was saying to myself 'what have I been doing!?' For 20 years, most of us forgot what we were supposed to be doing. The goose that laid the golden egg-doing these huge European tours and doing a week at Wembley! And then I found this blue sparkly guitar and that was it for me. I thought it was an old guitar, I didn't know it was new." The Blue sparkly guitar was a relatively inexpensive Italia Maranello Classic model that Chris Rea had stumbled across. "And you start to think that maybe there is a God. In terms of me playing and listening, it sounded almost identical to Pinky. But no buzz - not a sausage! To think that it's supposed to be a cheap guitar! So I immediately went and got another three around Denmark Street. I had one for E straight, E tuning with capo and so on. Then when we did our first Stony Road gig, it was a Montreaux festival on blues night, and the guy from Italia guitars had gone to the concert, and there on comes Chris Rea with four of his guitars. Anyway, he managed to talk his way through security and got to the dressing room, and he was in bits! I've played the best guitar of my life on that guitar".
The Italia Maranello Classic guitar has Agathis body, maple neck with rosewood fretboard (22 fret), and two Alnico V "vintage voiced" Wilkinson WVC humbuckers, mounted in the unusual, floating pickguard.
Source: Wikipedia, Guitar Buyer Magazine
Posted in Chris Rea-ish  |  Please leave your comment