Posted on 27/08/2013 by ozzy in Chris Rea-ish
Pinky '62
(Red body - white pickguard - rosewood fretboard)
The guitar that is the most connected to Chris Rea is his old battered '62 Fender Stratocaster, which he calls Pinky. According to Chris, the guitar was kind of candy apple red colour when he got it, but in fact, it looks more pink than red now - hence Pinky. The guitar was submerged in water for three weeks, due to an accident that happened in Chris' basement studio when he went to see his parents for Christmas. Pinky survived, but he certainly wouldn't recommend the same treatment for your guitar.
Pinky has an out of phase pick-up setting that doesnt sound like a normal out of phase setting. It's not as hard as 61/62 Strat. It's loud, and the tone is very wide. It doesnt have the bite, its very feathery, but, according to Chris, that makes Pinky beautiful for the slide guitar type of playing.
There are three stickers applyied to Pinky: Formentera (an isle that belongs to Balearic islands), Lotus Seven Club, and the J. Alesi Ferarri sticker placed on the rear. Chris owns another, almost identical red Strat with the Formentera sticker on it, but while this second guitar has a standard tuning, Pinky is tuned to an E.
As could be seen on the below picture from "Road to hell and back" tour DVD (2006), Pinky had its original Fender pick-ups replaced with a single-coil-sized "rails" humbuckers for a short while. Nevertheless, the Fenders were back on the Santo Spirito tour in 2012 though.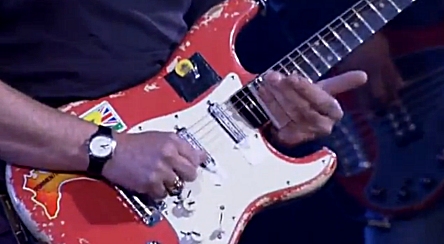 Below is break down of Fender Stratocasters that Chris Rea used during his career. See the pictures of all listed guitars in the gallery also.
Bluey '62 - Pinky's blue cousine named Bluey, used since the late 80s (daphne blue body - white pickguard - rosewood fretboard)
Blue Strat with a sticker - acquired in 1985, used that same year - with some white sticker - at Montreux pop festival. Used again one year latter, but this time with the classic Formentera siticker on it (lake placid blue body - white pickguard - rosewood fretboard)
Red '70s Strat - used at Peter's popshow in 1985 (red body - black pickguard - maple fretboard)
Sanburst '70s Strat - used Live in Paris 1979 (sunburst body- black pickguard, white knobs - maple fretboard)
Sunburst '70s Strat with maple fretboard - used on Live broadcast at BBC TV 1988 in Windy Town (3-tone sunburst body - white pickguard - maple fretboard)
Sunburst Strat with maple fretboard - used on TV in God's Great Banana Skin (3-tone sunburst body - white pickguard - maple fretboard)
Sunburst Strat with rosewood fretboard - used at David Letterman show in 1991 (sunburst body - white pickguard - rosewood fretboard)
Black Strat with locking nut - used on TV around 1988 for On the Beach (black body - black pickguard, white knobs - rosewood fretboard)
Black Strat with rosewood fretboard - used on TV in Winter Song (black body - white pickguard - rosewood fretboard)
Black Strat with maple fretboard - used on TV in Soft Top Hard Shoulder (black body - white pickguard - maple fretboard)
Pink Strat - used at the German TV show "Stars of 97" (shell pink body - white pickguard - rosewood fretboard)
White '60s Strat - used on Top of the Pops in 1985 for Stainsby Girls & Josefine (white body - black pickguard, white knobs - rosewood fretboard, small headstock with CBS logo)
White Strat with tremolo arm - used at Rockpalast show in 1983 (white body - white pickguard - rosewood fingerboard)
Silver Strat with tremolo arm - used around 1988 on German TV in Driving Home for Christmas (silver body - white pickguard - rosewood fretboard)
Red '80s STRAT - used in Driving Home for Christmas video from around 1987 (red body - white pickguard - maple fretboard, red headstock, gold-plated hardware)
Red Squier Affinity Strat - used at Carmen Nebel show on German TV in 2009 (red body - white pickguard - rosewood fingerboard, large headstock)

Posted in Chris Rea-ish  |  Please leave your comment