Posted on 01/01/2014 by ozzy in Wrightish
Richard Wright used the Minimoog between 1973 and 1977, mainly as a solo lead instrument. The Minimoog was part of Wright's rig on the Dark Side of the Moon, Wish You Were Here, and Animals albums/tours. He played this instrument for the first time in Any Colour You Like. Later a Minimoog was also used for the 'horn' sound in Shine On You Crazy Diamond, and for the lead parts in Raving and Drooling (live version of Sheep), as well as for the melodies in Dogs and Have a Cigar.
The original Minimoog was a monophonic analog synthesizer released in 1970 by Moog Music, designed for rock and pop. In contrary to the large, expensive and cumbersome modular synthesizers, the Minimoog included all important parts in a compact package, without the need for patch cords. It stayed in production until 1981, but it was re-designed by Robert Moog in 2002 and released as Minimoog Voyager.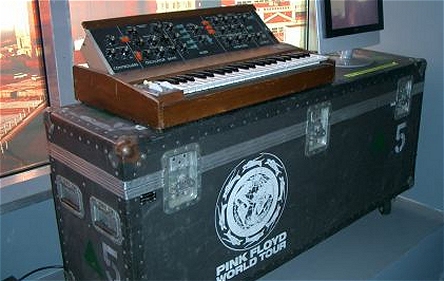 How to get the sound:
You can find the free VST plug-in called Model Mini on the Elektrostudio website. But if you want a real Minimoog emulation, and you are ready to pay for it, try the Arturia Mini V instead.