Posted on 16/09/2013 by ozzy in Chris Rea-ish, Signature models
In 1999, Fender produced the Chris Rea signature Pinky Stratocaster as a part of its Mexico made "Classic Series '60s". This signature is a copy of Chris' famous red '62 Stratocaster, which he calls Pinky. He actually played this Mexican copy on the Road to Hell: Part 2 album along with the original. No more than 500 of them were made for European market only, making this a very rare collectors item. All artist royalties from it went directly to charity.

In the interview for Guitarist magazine (Nov 1999) Chris Rea explains: "Fender approached me to do the guitar and any proceeds are going to the NSPCC. But also it's nice to be able to tell people there's such thing as a slide guitar, as it often gets lost in the commerciality of the business. If we have a hit record, it'd be great to think that some kids might be inspired to start playing that kind of music." As well as the instrument itself, there's also a slide tuition video that comes with the guitar. "That was something I insisted upon, because you have to block the trem off and raise the action to do the tunings and I explain all this in the video. It's about 25 minutes long and it's just me playing slide. It'd give me a lovely smile if we saw someone on television in five years' time who said he'd listened to what I was doing and taken it somewhere elese. What you're really getting is an alternative instrument; it's not a guitar as guitars go, and that'll do me."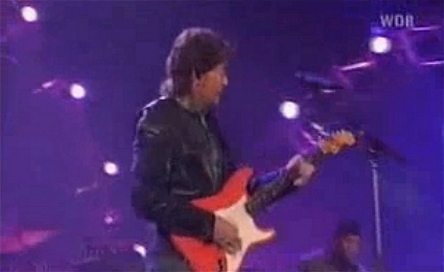 The basic specs of Chris Rea signature Pinky Stratocaster are as follows: Poplar body, faded fiesta red colour called salmon pink; white pickguard (mint green) and aged plastic parts; D-shape maple neck with rosewood fretboard, 21 frets, 7,25 radius; vintage Kluson tuners and vintage tremolo. Each guitar came with tutorial video (see below, it's really amazing), bottle-neck, little block of wood to block the tremolo off, gigbag and two decals to decorate your instrument the Chris Rea way.
Source: Guitarist (Nov 1999)
Posted in Chris Rea-ish, Signature models  |  Please leave your comment