Posted on 15/07/2013 by ozzy in Accessories
Not only David Gilmour was known for wearing a "Didn't they do well" t-shirt. As you can see on the below picture, Roger Waters also wore it occasionally in the early 70s; see a footage from the Pink Floyd live performance at Municipal Auditorium, Atlanta, in 24 March 1973 (and notice the unusual Gibson humbucker pickup on David's Black Strat, by the way). If you fancy to add this t-shirt to your ever growing Floyd-related t-shirt collection - perhaps next to your "Gilmour Academy" and Roger's Number One t-shirt - you can buy your own at Spreadshirt.com.
In case you don't know, "Didn't they do well" was a catchphrase from then poular british The Generation Game show, produced by the BBC, in which four teams of people from the same family, but different generations, competed to win prizes. The programme was first broadcast in 1971 and ran until 1982, and again from 1990 until 2002.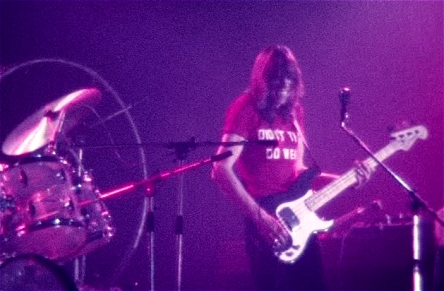 Posted in Accessories  |  Please leave your comment