Posted on 31/08/2012 by ozzy in Accessories
The below picture shows the rack of four Sennheiser EM 2050s as used on The Wall tour in 2012. The rack also included (not visible on the picture) Samson PowerBrite PB10 power conditioner, Samson UR-5D Dual Diversity Receiver, and Samson DA-5L Distribution Amplifier.
The Sennheiser EM 2050 is a true diversity receiver, available as a 19-inch unit with double-channel design. It features five UHF frequency ranges and a switching bandwidth of up to 75 MHz. With the help of its Ethernet connection, a frequency management takes place directly through WSM (Wireless System Manager) software on PC. The transmitters' automatic synchronization via an infrared interface saves time during set-up. The integrated antenna loop-through enables systems that have up to 16 channels to be set up without an external splitter. The integrated equalizer and guitar tuner makes the EM 2050 a suitable wireless system for guitarists when used in combination with the SK 2000 bodypack transmitter.
The SK 2000 features enhanced audio frequency response in the bass range for optimum transmission from bass guitars.
Source: Sennheiser.com, Premier Guitar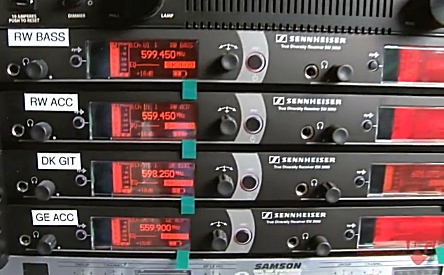 Posted in Accessories  |  Please leave your comment