Posted on 21/02/2012 by ozzy in Guitars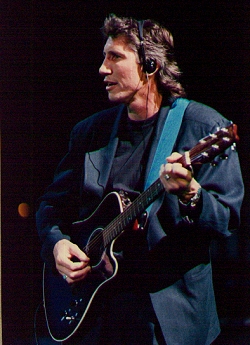 Roger Waters used his both black and blue sunburst Washburn Mirage Pro guitars during Radio KAOS tour (1987) for Welcome to the Machine, Wish you were here, Mother, Final Cut and If. A few years later he also used the blue one during Wall Live in Berlin (1990) for Mother, and also Andy Fairwater Low played it during In the Flesh tour (2000) in Each Small Candle.
The Mirage Series was introduced by Washburn in 1984 as the original acoustic/electric solidbody line of guitars. It had mahagony body and neck, rosewood fingerboard with pearl dot inlay and matching headstock with three-per-side chrome diecast tuners. It also featured active electronics with piezo pickup in bridge, an exposed humbucker below the soundhole, EQ section with three knobs (Equalizer, Middle, Gain), and two knobs (Volume, Tone) and a three-way switch on the front of the guitar for separate controls.
Source: Washburn