Posted on 14/02/2015 by ozzy in Signature models
When it comes to spec of Jeff Beck's main guitar, it's quite surprising to find that it doesn't have anything in common with the signature model that Fender produces (2014). The story of Beck's White Stratocaster begins in 1987, when he had asked Fender to make him a `62 Vintage model painted in the same yellow colour as his 1932 Ford Hot Rod. Fender took this as the opportunity to talk him into having a namesake Stratocaster model, and has put together the prototype with Jeff in mind. (Hence its yellow finish christened Graffiti Yellow.) But Beck temporarily turned down Fender's proposal and the Stratocaster came eventualy out as the Strat Plus.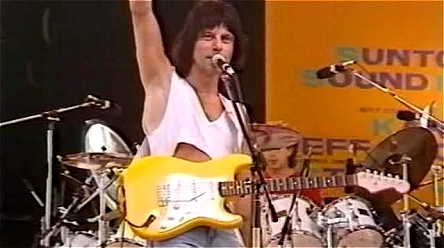 In 1990, he finaly acceppted Fender's offer and they released the Jeff Beck Signature Strat, Version 1, based on the Strat Plus. It did not come in Graffiti Yellow, but in Midnight Purple, Surf Green and Vintage White.
A years after, in 2001, the signature Stratocaster was upgraded to the Jeff Beck Signature Strat, Version 2, and the Custom Shop version had been introduced in 2004. The most significant difference between those two versions was the replacement of the active Lace Sensor pickups with the Hot Noiseless Dual-Coil Ceramic pickups. The Version 2 also features a slim C-shaped neck instead of the chunky U-shaped neck found on the previous signature model, LSR roller nut instead of the Wilkinson, and a straightforward five-way pickup selector and standard tone controls instead of the prior guitar's TBX tone circuit and coil-splitting functions.

Jeff Beck Signature Stratocaster (Version 1)
1990 - 2001
Midnight Purple, Surf Green and Vintage White colour - Alder body - Rosewood fingerboard - C-shape neck - Wilkinson roller nut - 2-point tremolo - Lace Sensor Gold single-coil pickups and HB Lace Sensor Dually at bridge - TBX tone circuit affecting the middle and bridge pickups and a mini coil-split push-push button for the bridge-position humbucking pickup

Jeff Beck Signature Stratocaster (Version 2)
2001 (2004, Custom Shop) - present
Olympic White and Surf Green colour - Alder body - Rosewood fingerboard - C-shape neck - LSR roller nut - 2-point tremolo - Fender Hot Noiseless Dual-Coil Ceramic pickups - Contoured heel for easier access to upper frets - Deluxe Staggered Cast/Sealed Locking tuners or Sperzel Trim-Lok Staggered (Custom Shop)
About Jeff Beck's main Stratocaster his guitar tech Stevie Prior reveals: "The main, white one is a '95 basswood-body made by J.W. Black, with a J.W. Black neck from '93, and John Suhr pickups, which there are really only two sets of in existence – that main guitar and then the Surf Green spare. Obviously, Fender would like to get those back so they could try to replicate those pickups, but that'll never happen, because you'd never get the guitar out of Jeff's hands long enough. But I'm now using Fender Custom Shop Alnico N3 pickups made by Michael Frank-Braun in all the other [backup] Strats. They're much more true to the Strat-like tone, in that they're Alnico II, III, and V – that's neck, middle, bridge – although they're Noiseless, which we obviously rely very heavily upon. He hates that 50- to 60-hertz buzz with single-coils. They're probably a bit brighter, because the Surf gets a quite dark midrange sound. He quite likes that brilliance and shimmer he gets from the N3s."
John Suhr (who is currently running Suhr Guitars, suhrguitars.com) was the original pickup designer for the Fender Custom Shop. He made the Beck pickups when he worked there as a master builder, so here is what he had to say: "It was a dare from JBlack who was re-working Becks 3 main guitars and was having some feedback issues with them. So J asks if I could make something and I said I would give it a go!
They are stacks and are very tall (under the pickguard), definitely flat pole pieces flush with the cover or close to that. 100 % handmade pickups, bobbins and all and the used stock covers. They are dark sounding and warm which really worked for the gain and brilliance of the amps he was using making a brittle overdrive sound fat and smooth. Bill Turner then came on board and Bill Lawrence shortly after was doing some more work for Fender. Then I left. After the Fender Noiseless series was created Beck wanted something more like the prototype sets I built for him and Bill Turner used the existing new noiseless bobbins to come come up with something hotter as a Jeff model pickup, at that point I had one foot out the door. I had assumed Beck had switched to those but later found out that Beck was still using 2 of the original sets for special occasions loaded into a pickguards he used for special shows and recording.
I might make some pickups like the original Beck sets but the guitar would need deeper cavities if I were to do it exactly the same, so it wouldn't be easy to market.
These pickups have a unique character and even though stratty they are pretty far away from an authentic single coil tone."

Jeff Beck's White Stratocaster (main guitar)
1987 - present
White colour - Basswood body - Rosewood fingerboard - Wilkinson roller nut - 2-point tremolo - Custom-wound pickups by John Suhr - Wiring that allows to adjust tone for all pickups

The Reverse Headstock Stratocaster
2014 (present)
The Fender Custom Shop White Stratocaster with reverse headstock á la Hendrix debuted on the Beck / ZZ Top tour in 2014. The reverse headstock affects how the tension increases as player bend the string. The more non-vibrating length a string has, the less effect on pitch a given deflection along a fret gives. So a reverse neck will give considerable bends on the high E and B strings, compared to a typical Stratocaster.
Posted in Signature models  |  Please leave your comment