Posted on 14/09/2011 by ozzy in Guitars, Signature models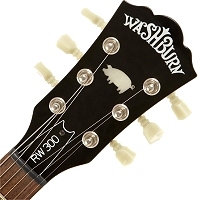 Roger had been playing the sunburst Washburn RR300 during the first two year (1999-2000) of his In the Flesh tour. Washburn approached him about a Signature Limited Edition and this led to a black RW300 used during 2002 part of the same tour.
The RW300 brings together a Seymour Duncan P90 style pickup and a Fishman preamp with a piezo bridge. These pickups, in combination with the chambered mahogany body and solid spruce top, reduce the chance of feedback and give the guitar a vibrant acoustic tone.
Source: Washburn Guitars

Posted in Guitars, Signature models  |  Please leave your comment